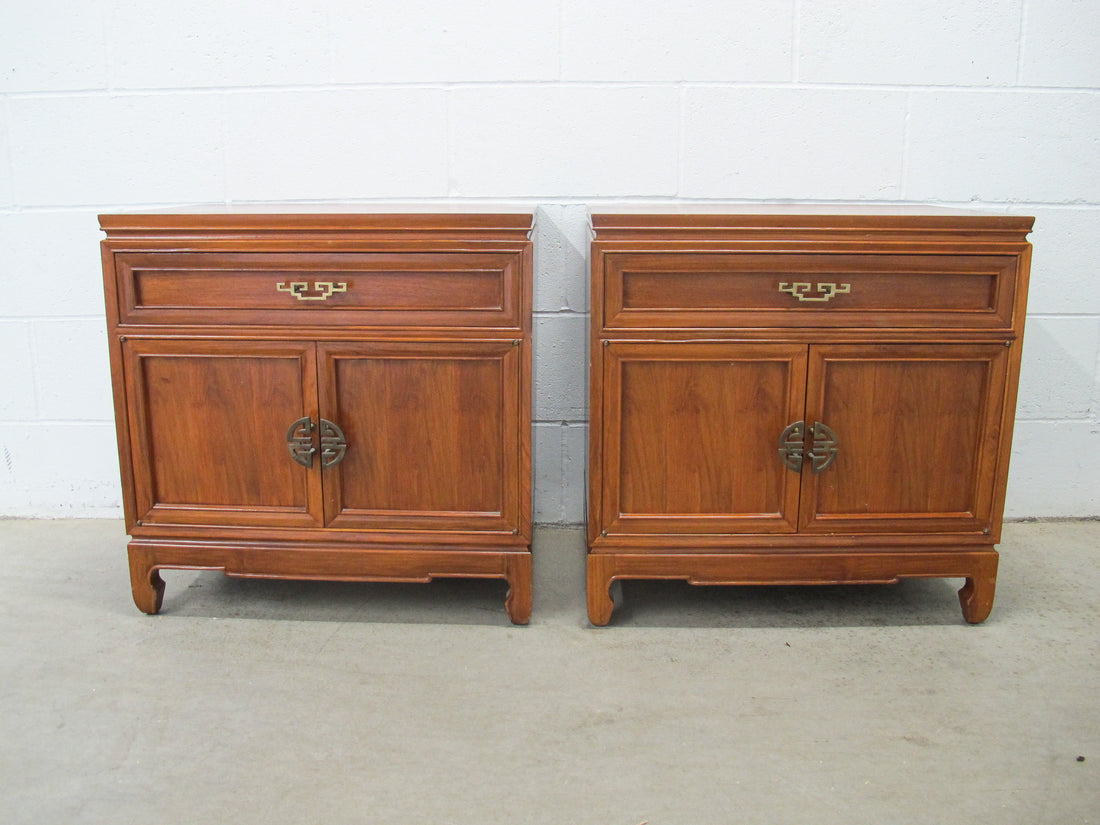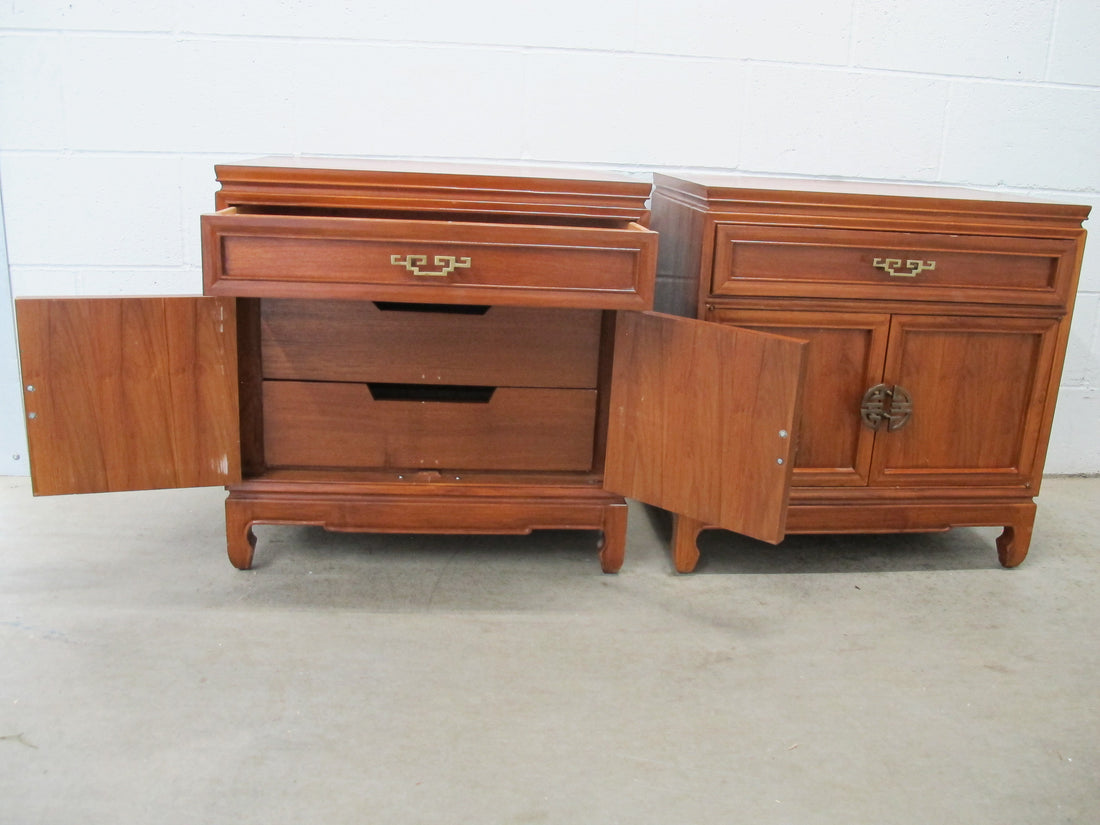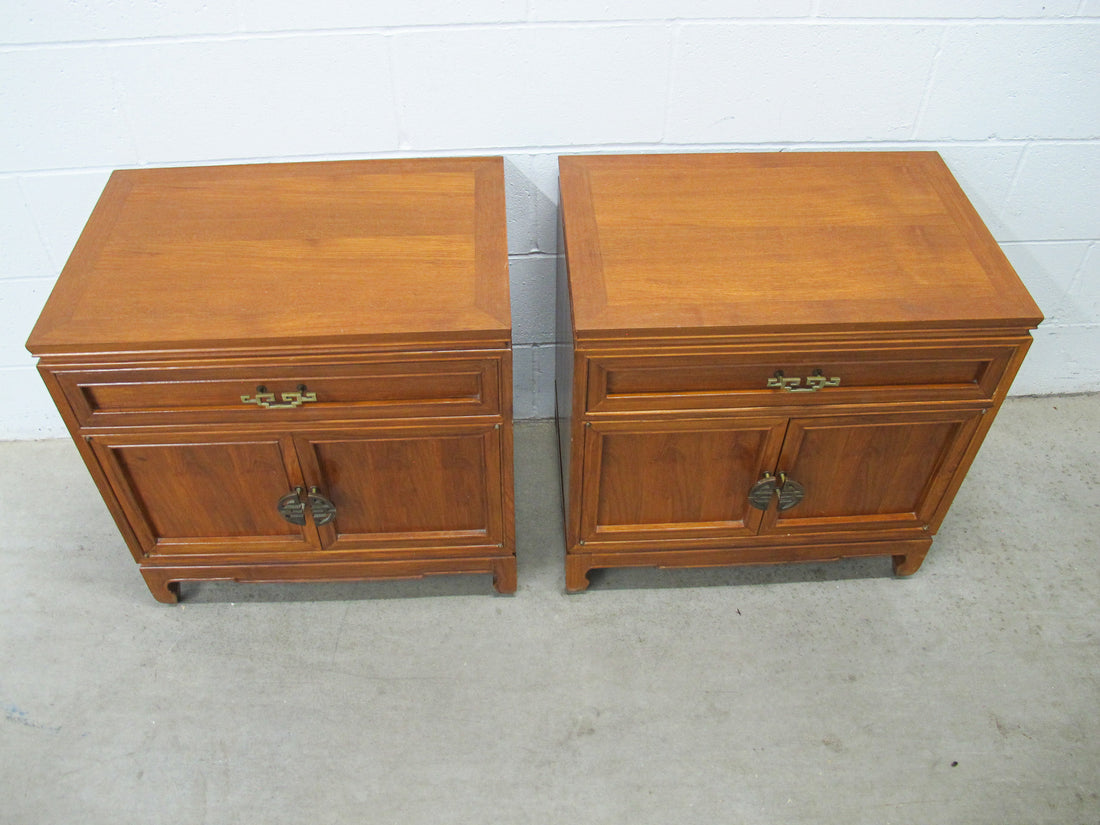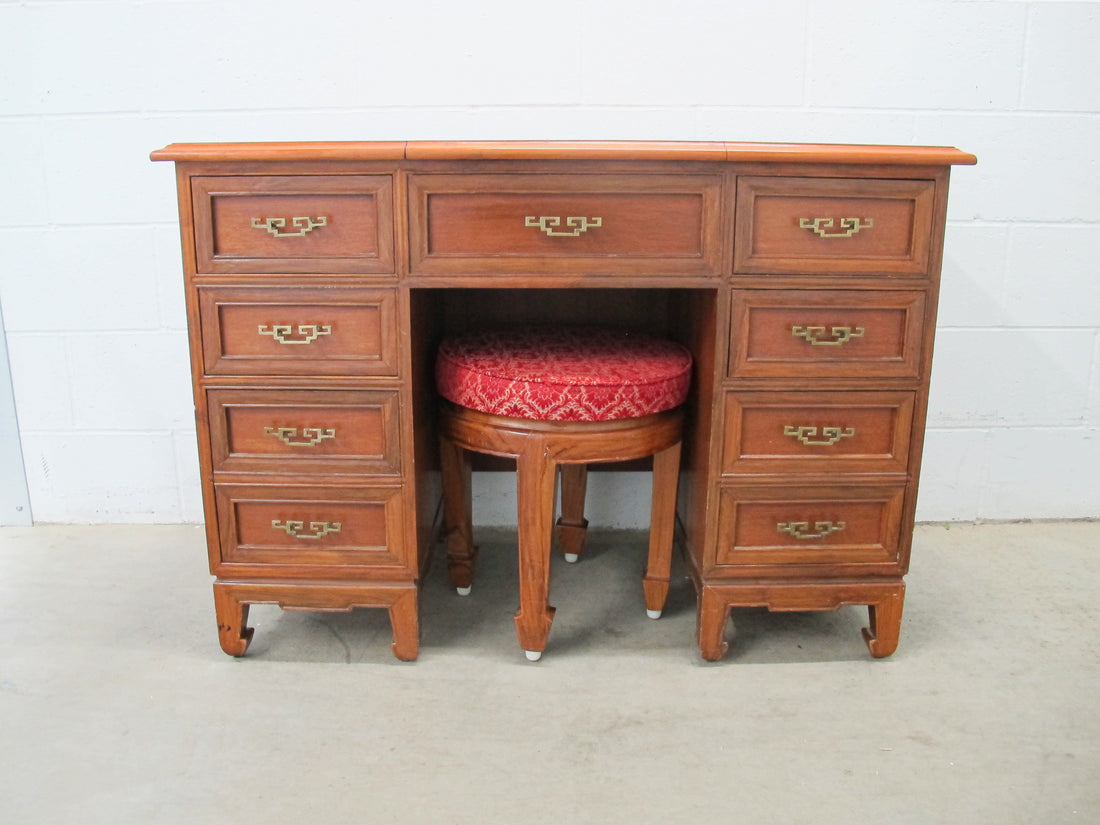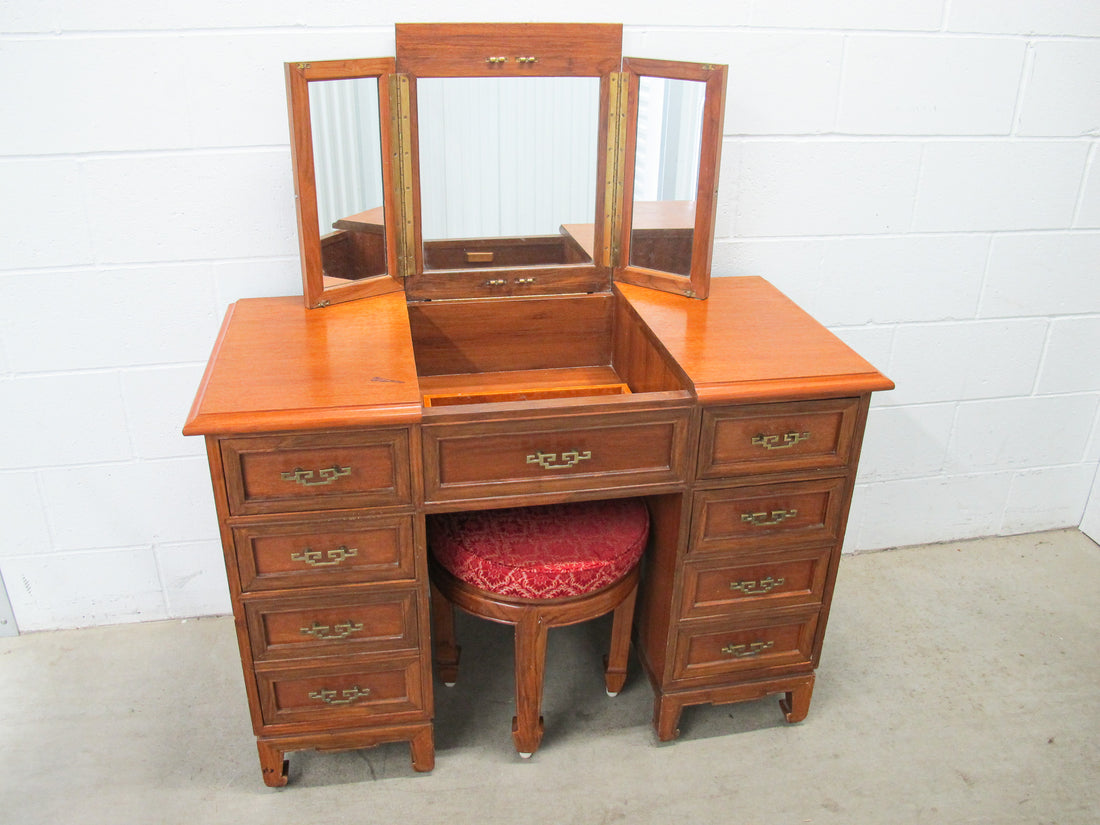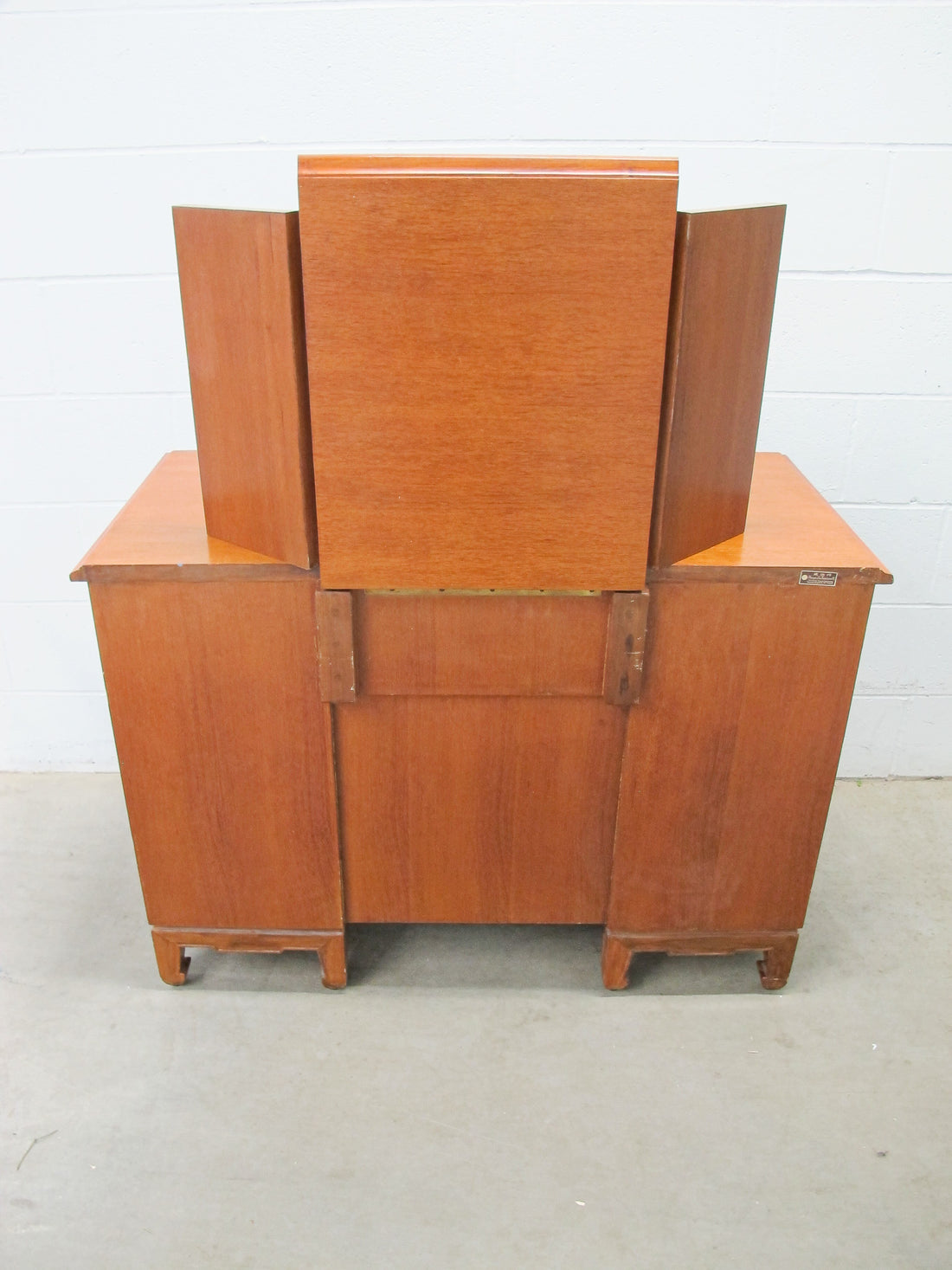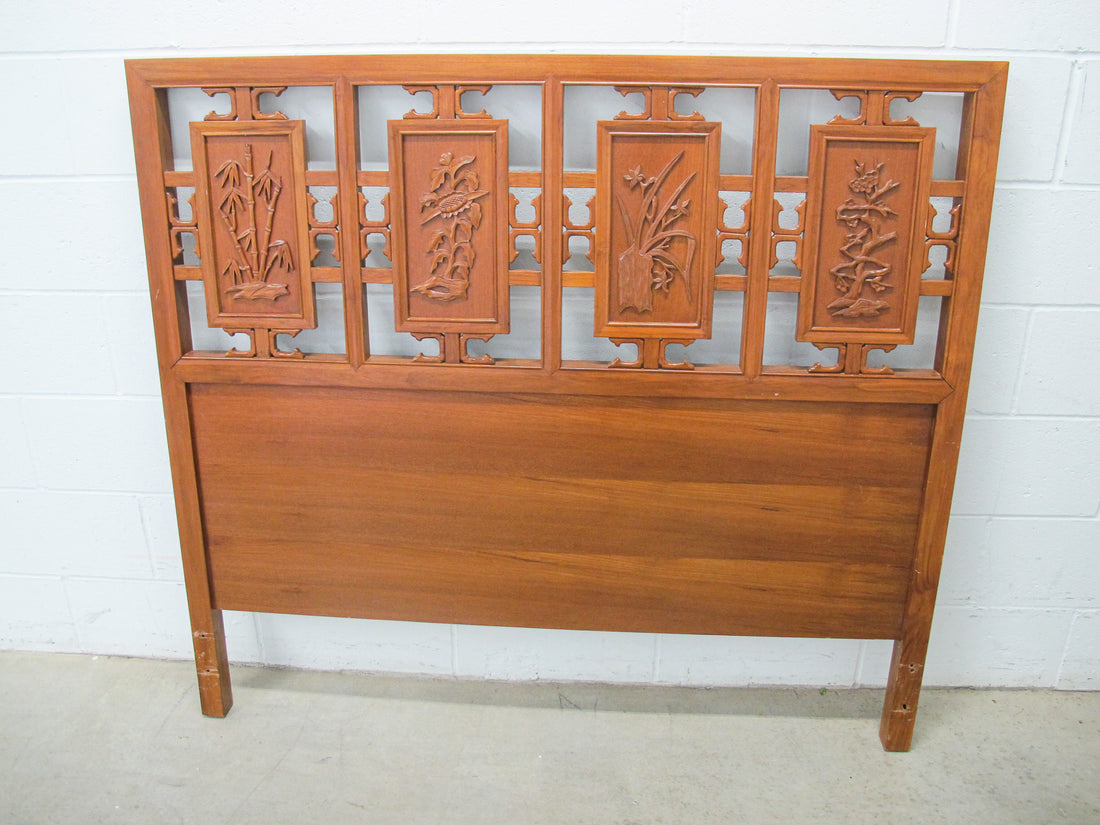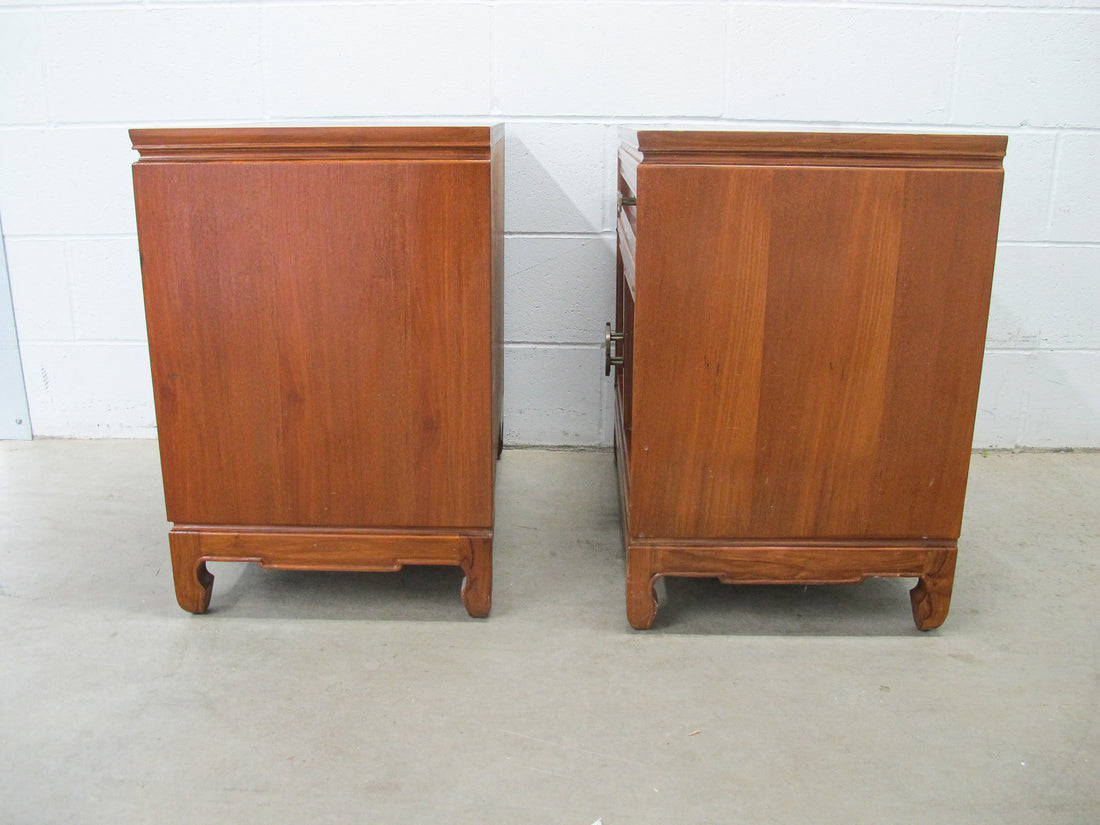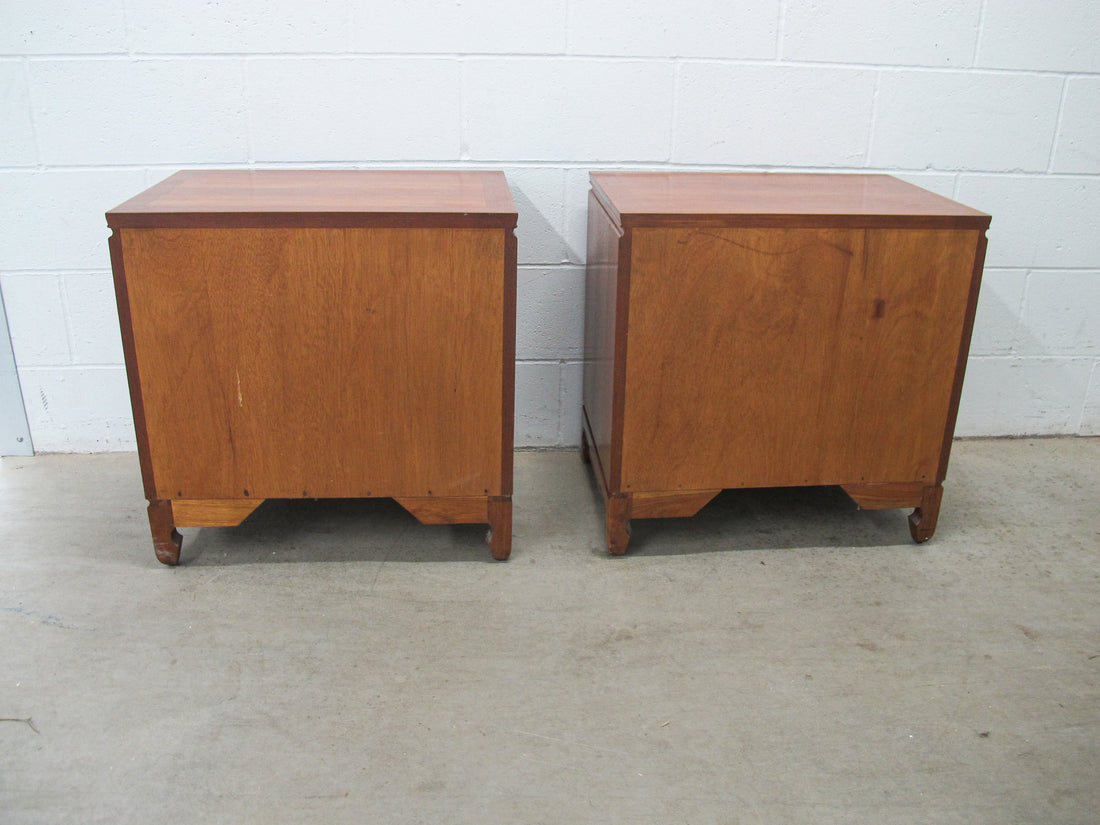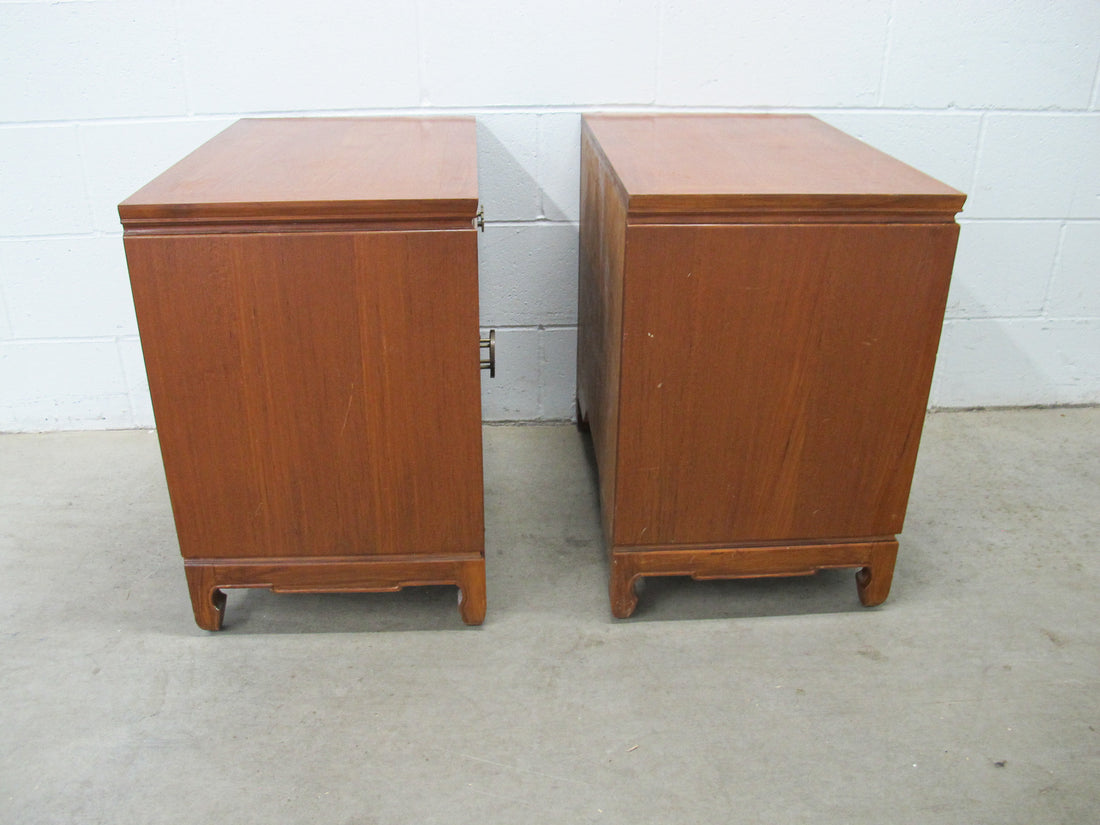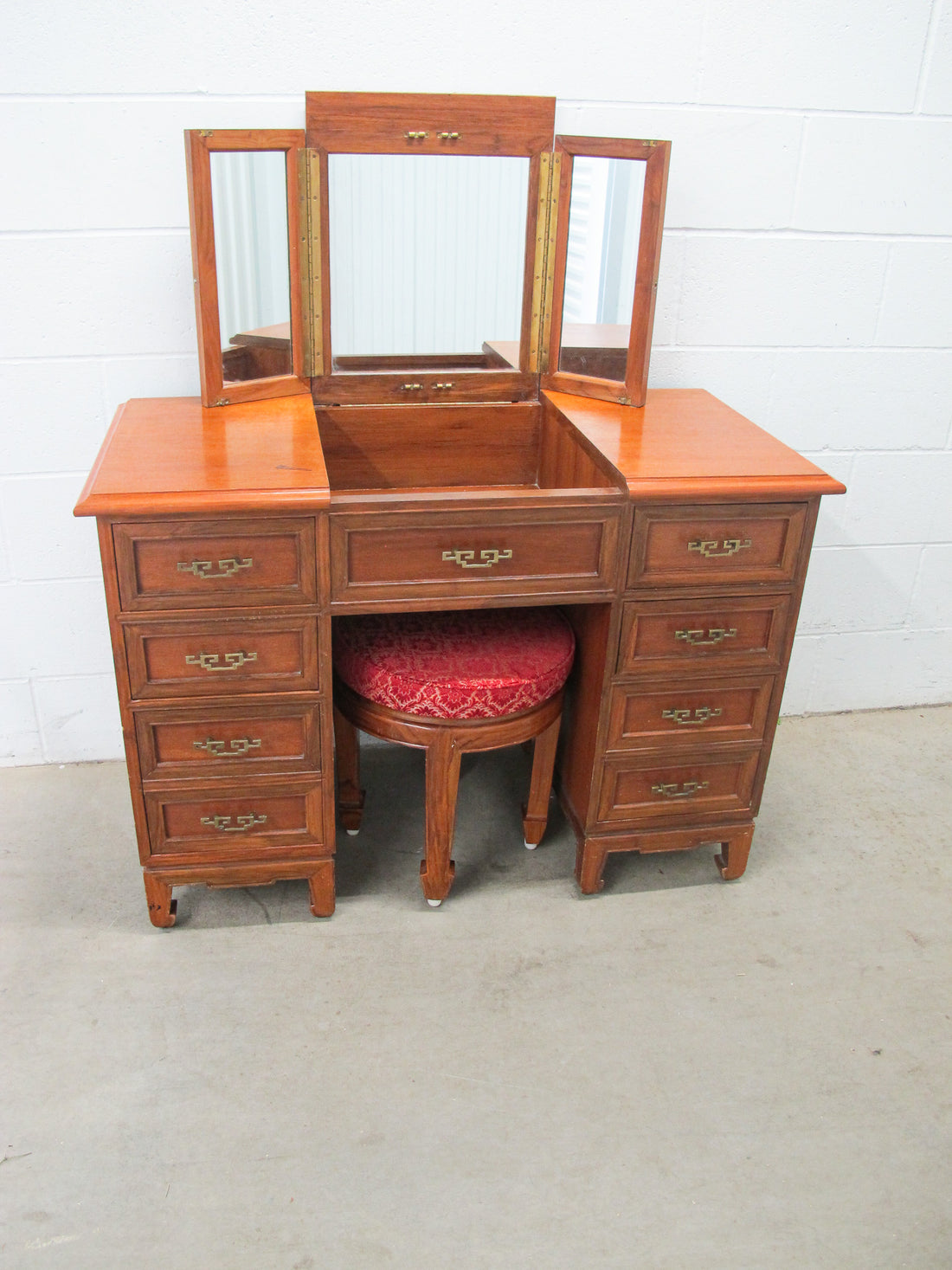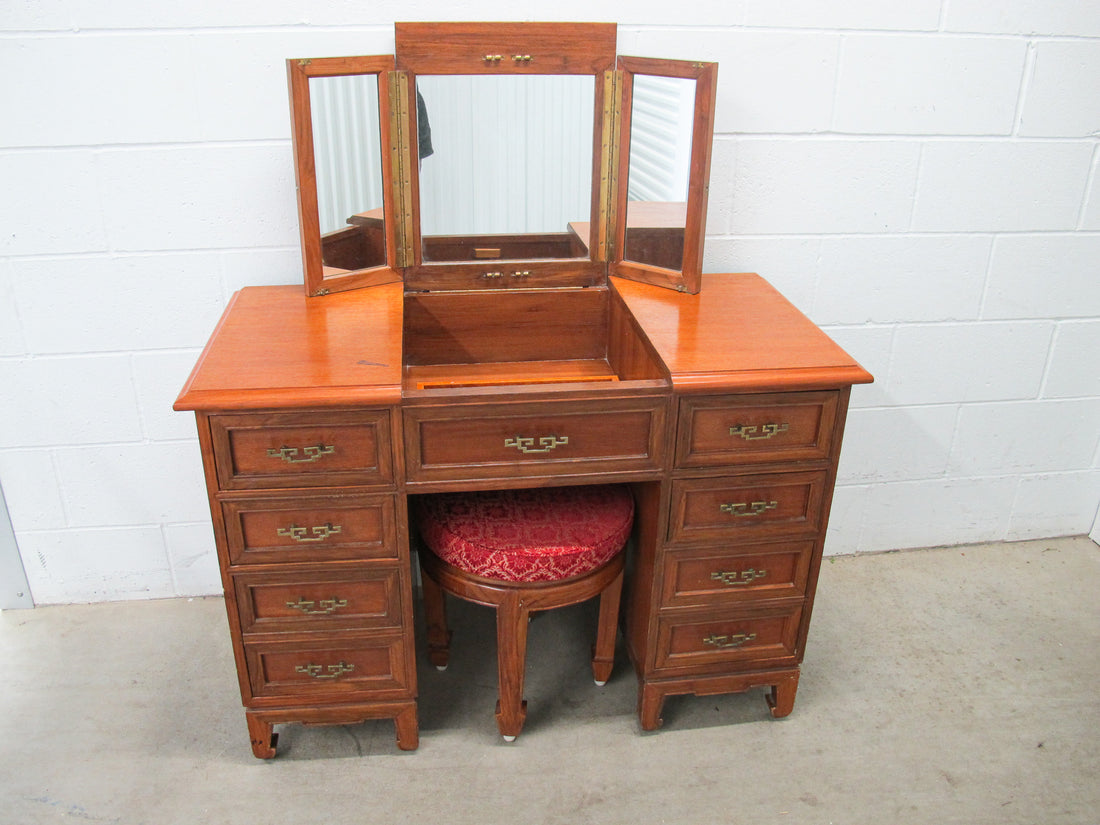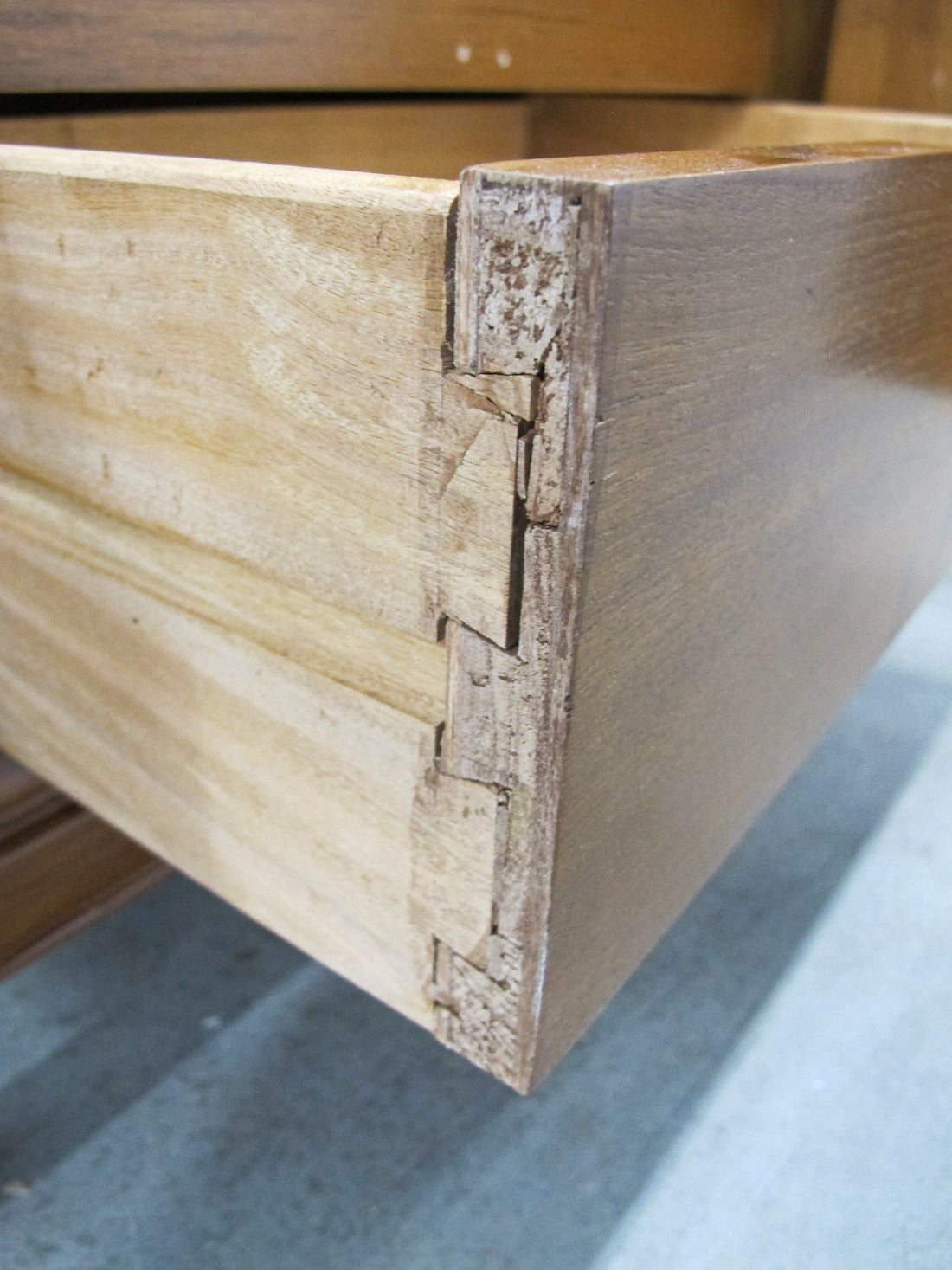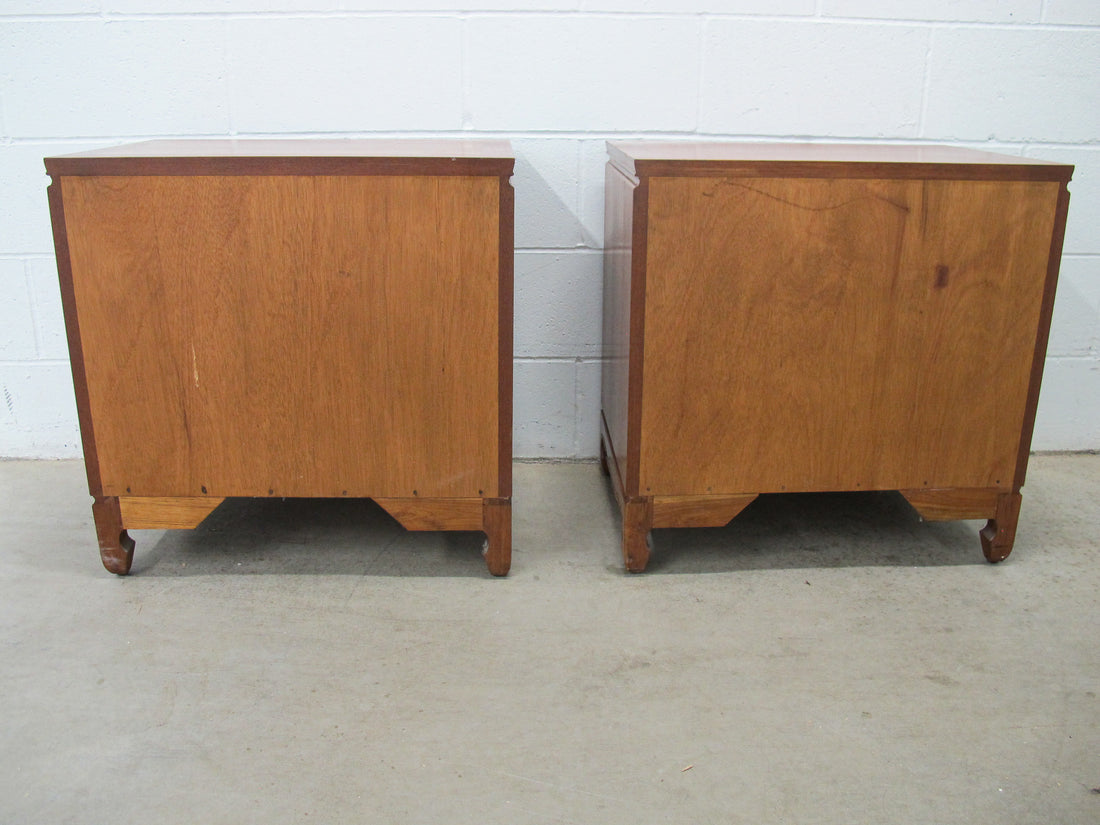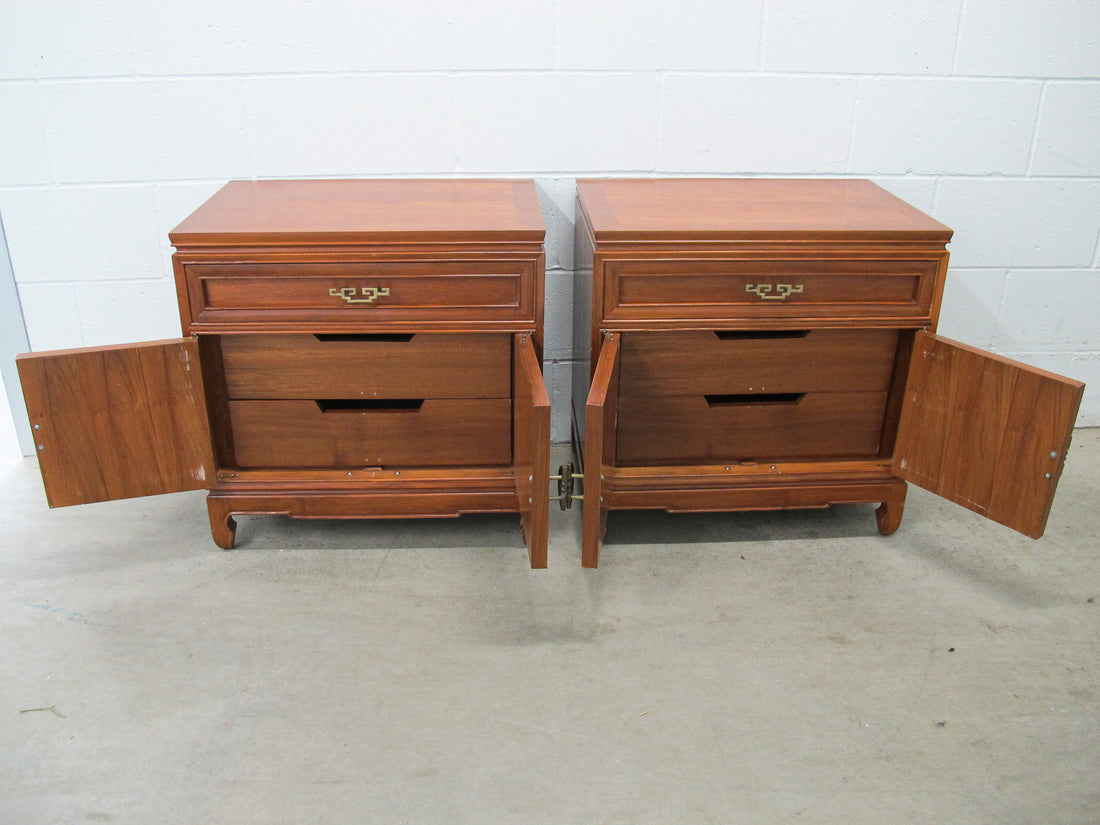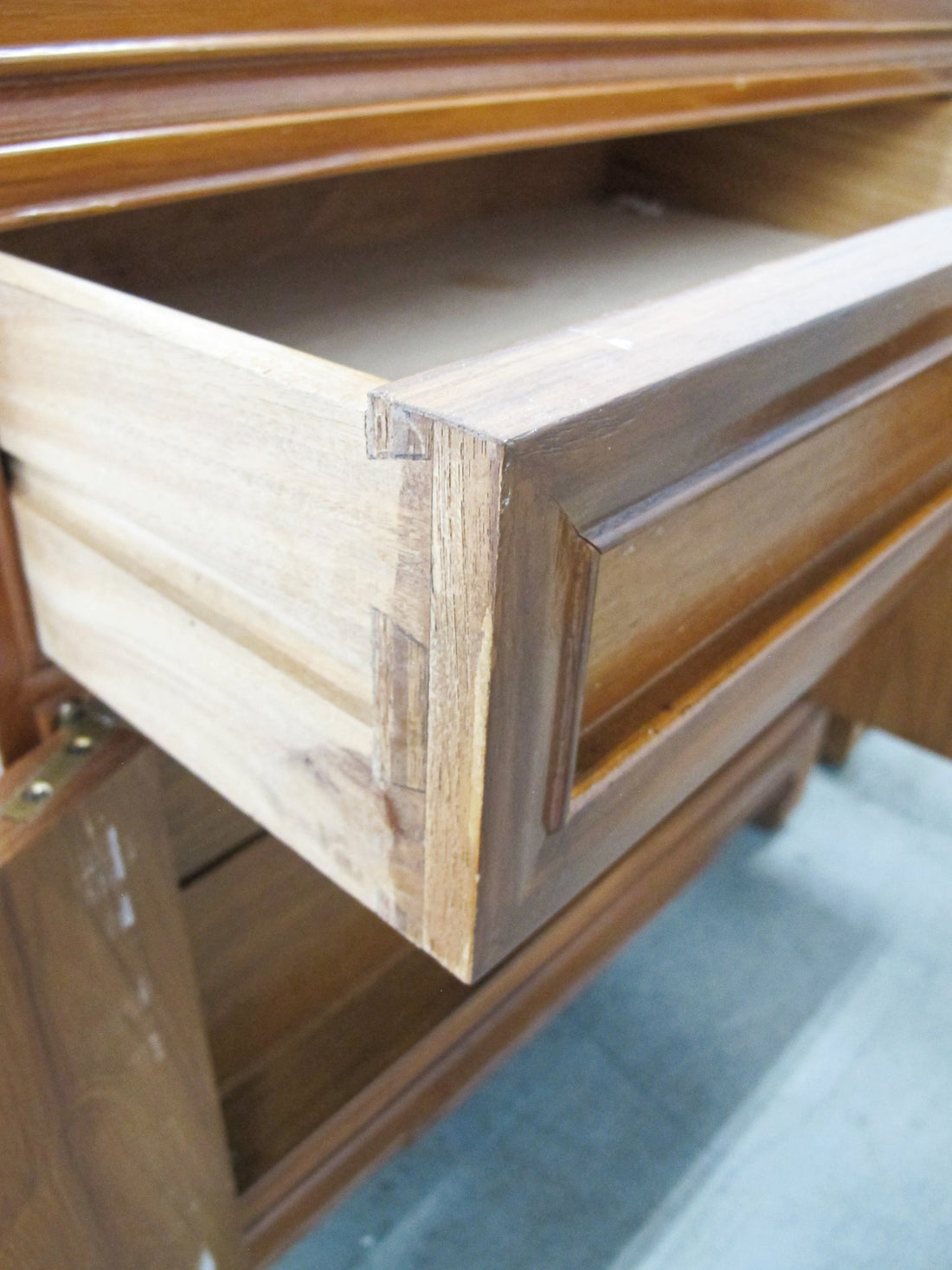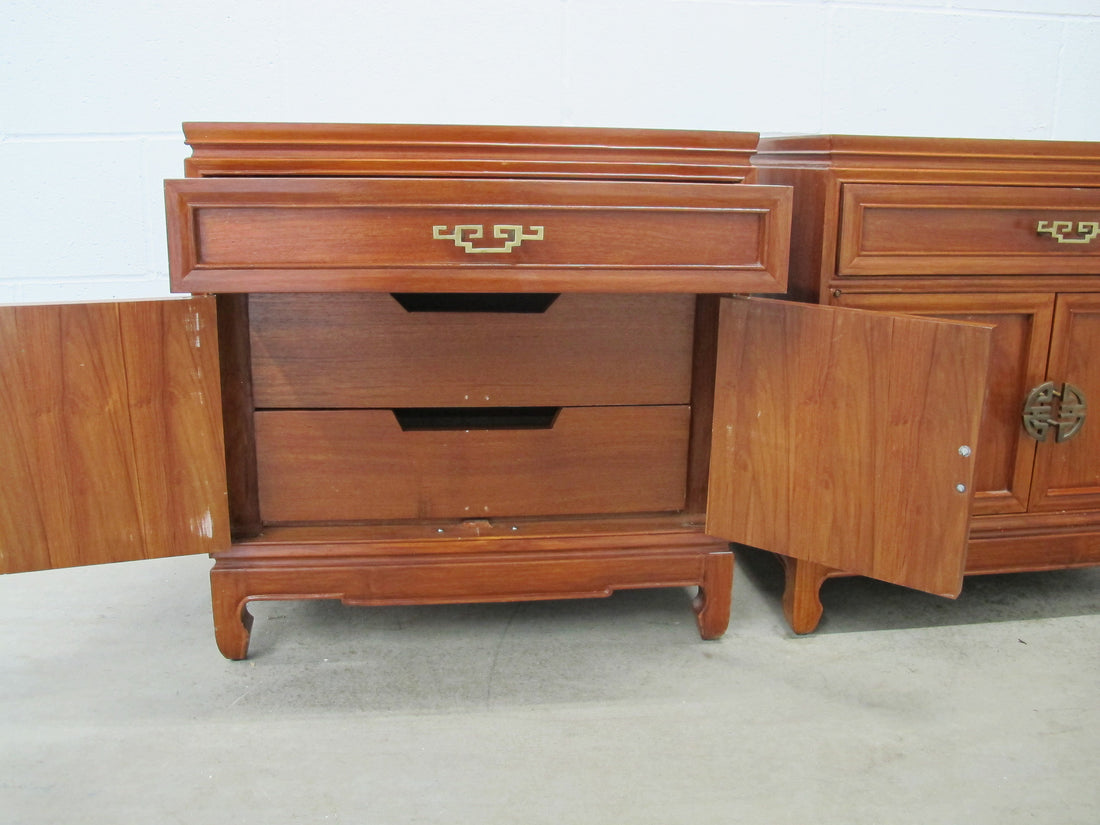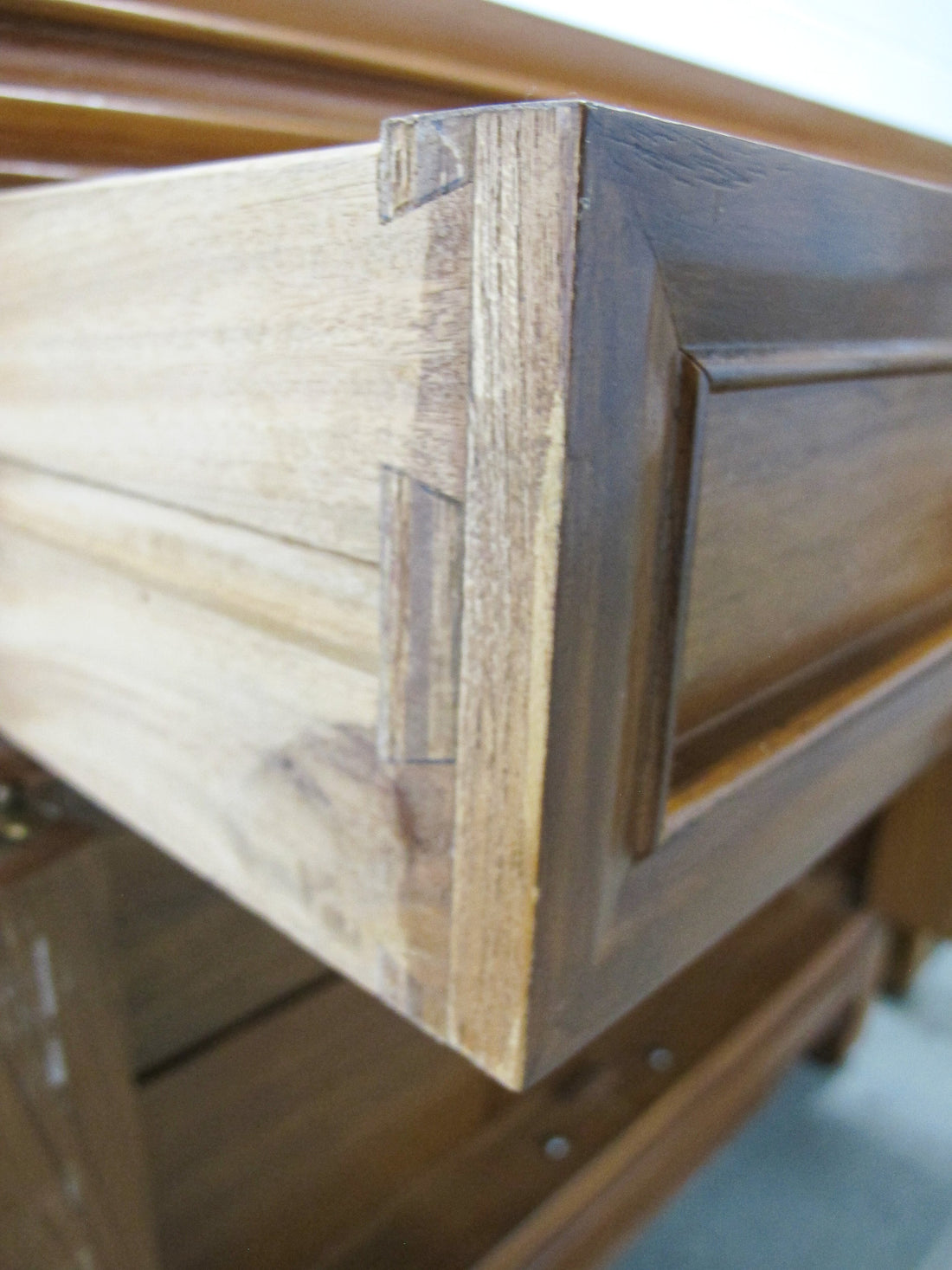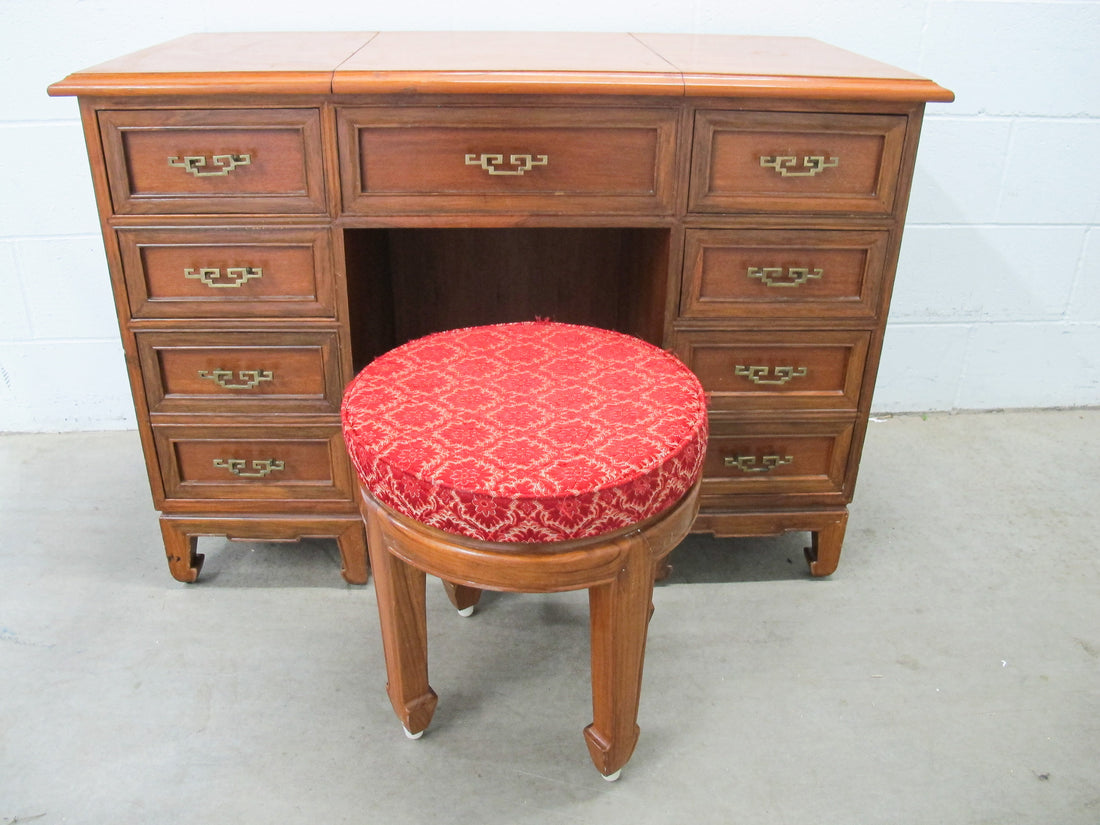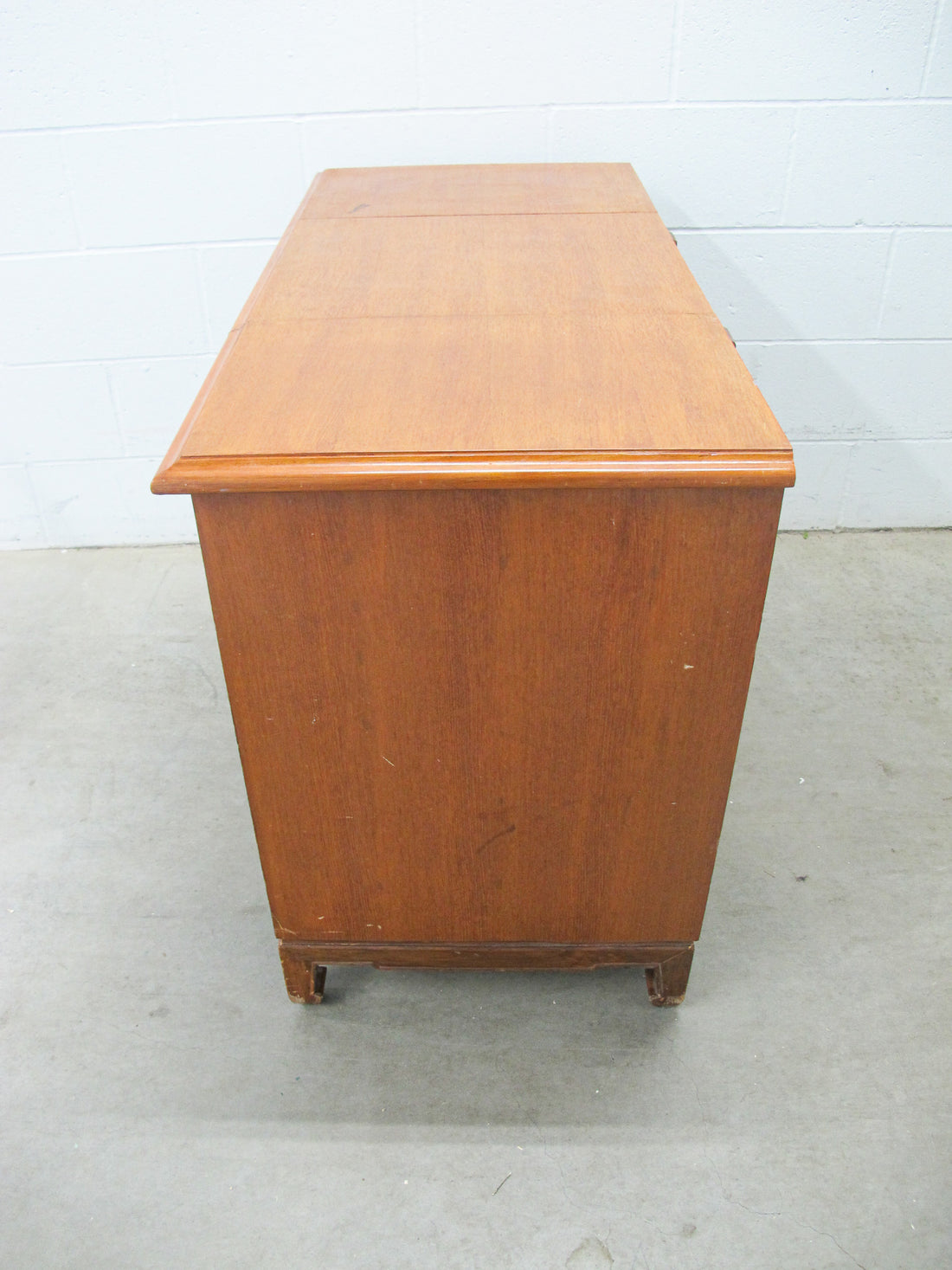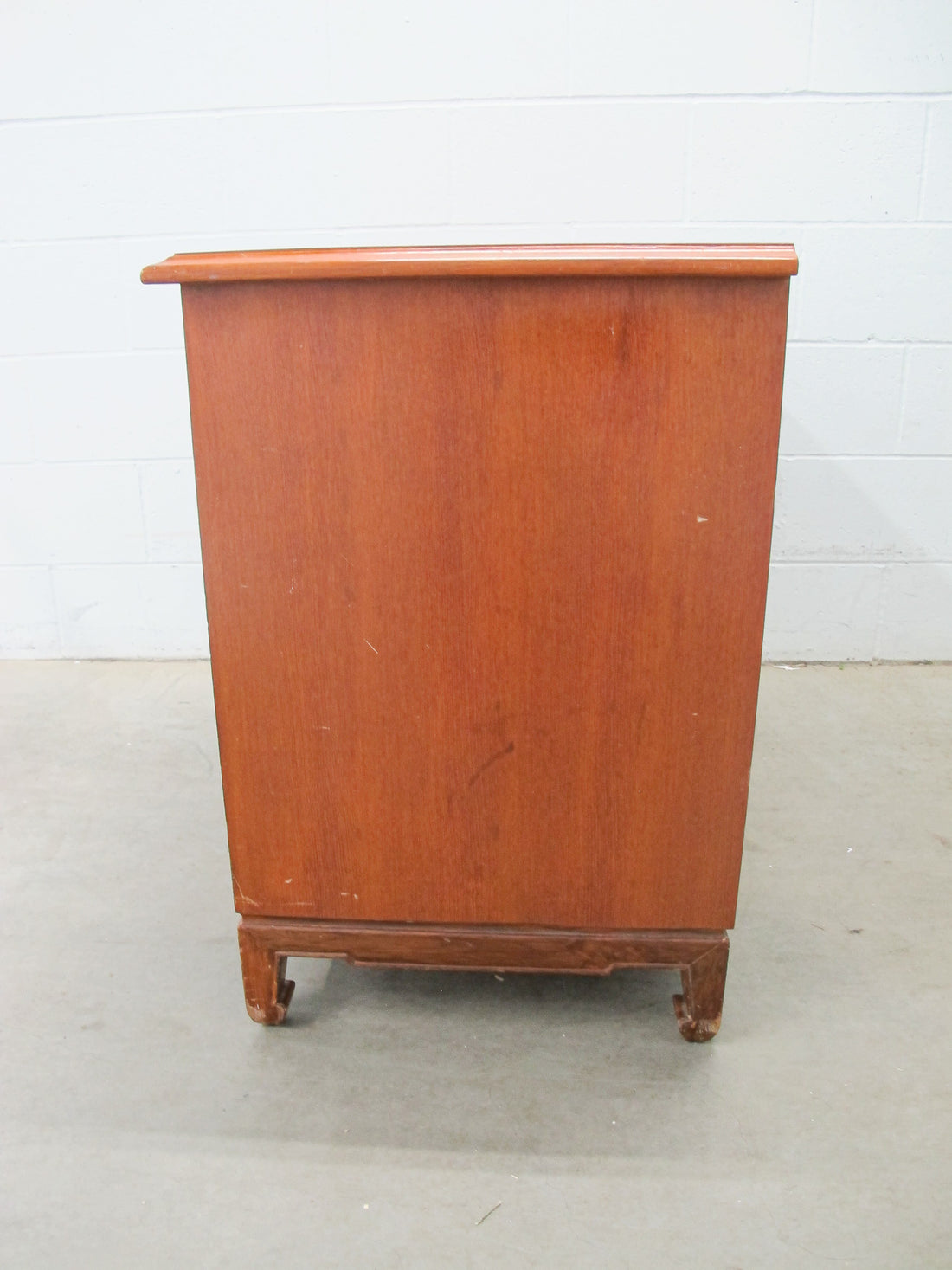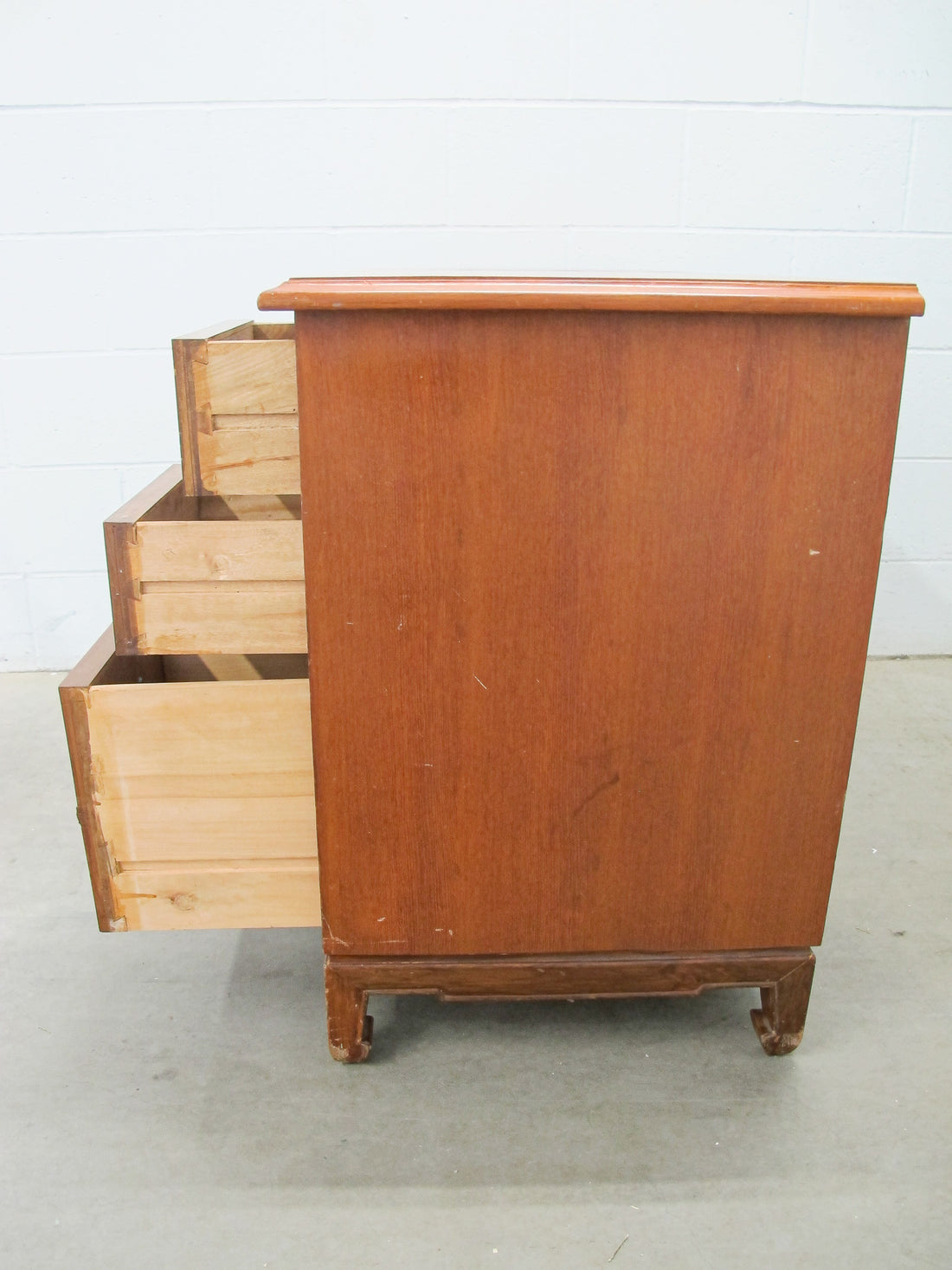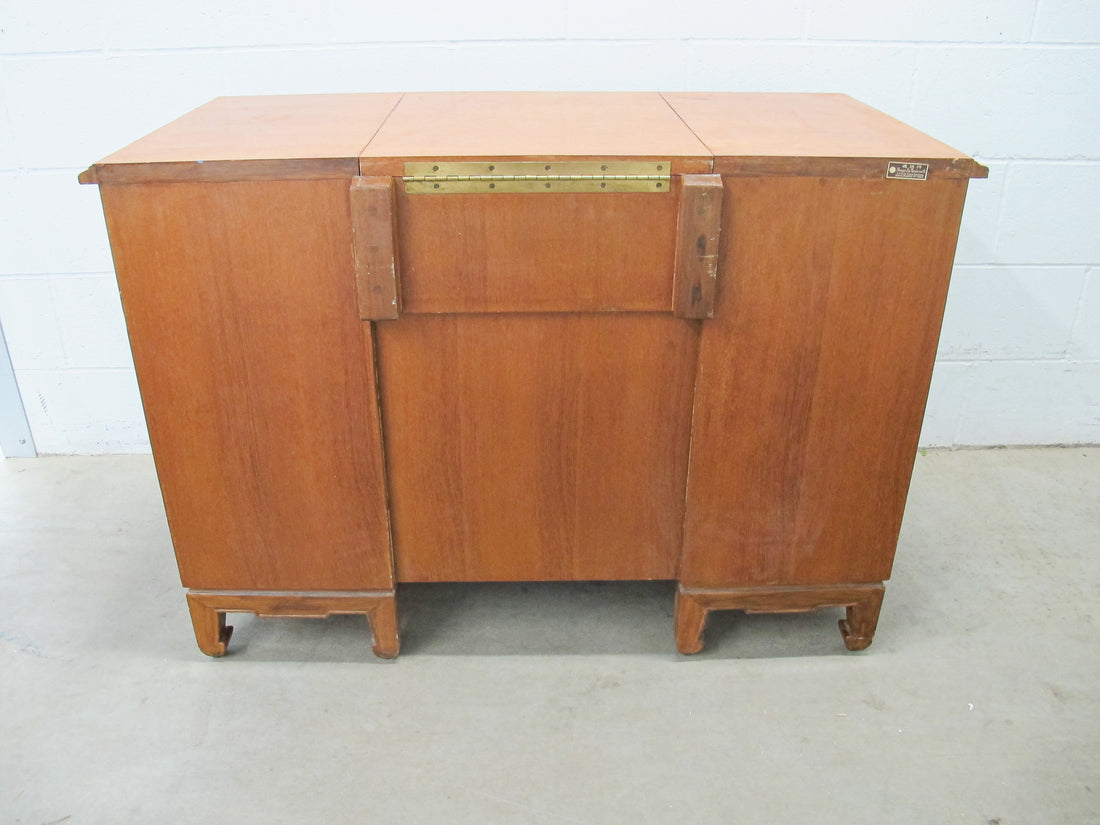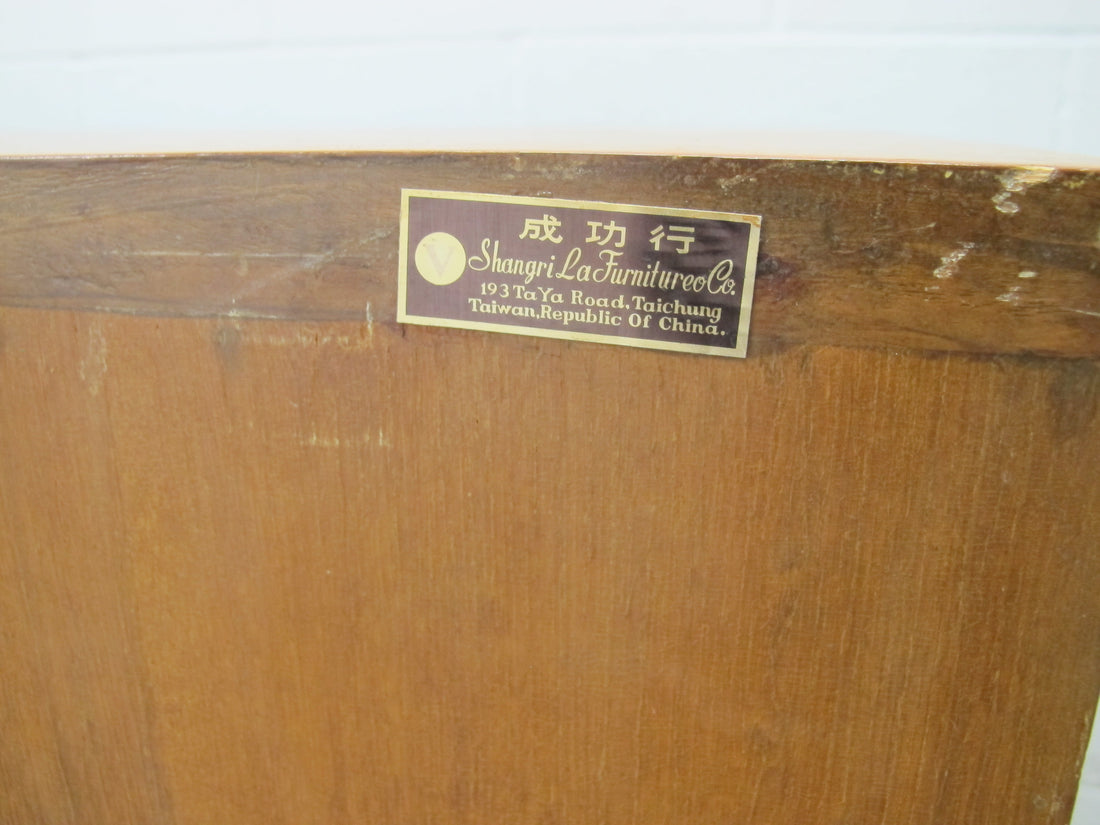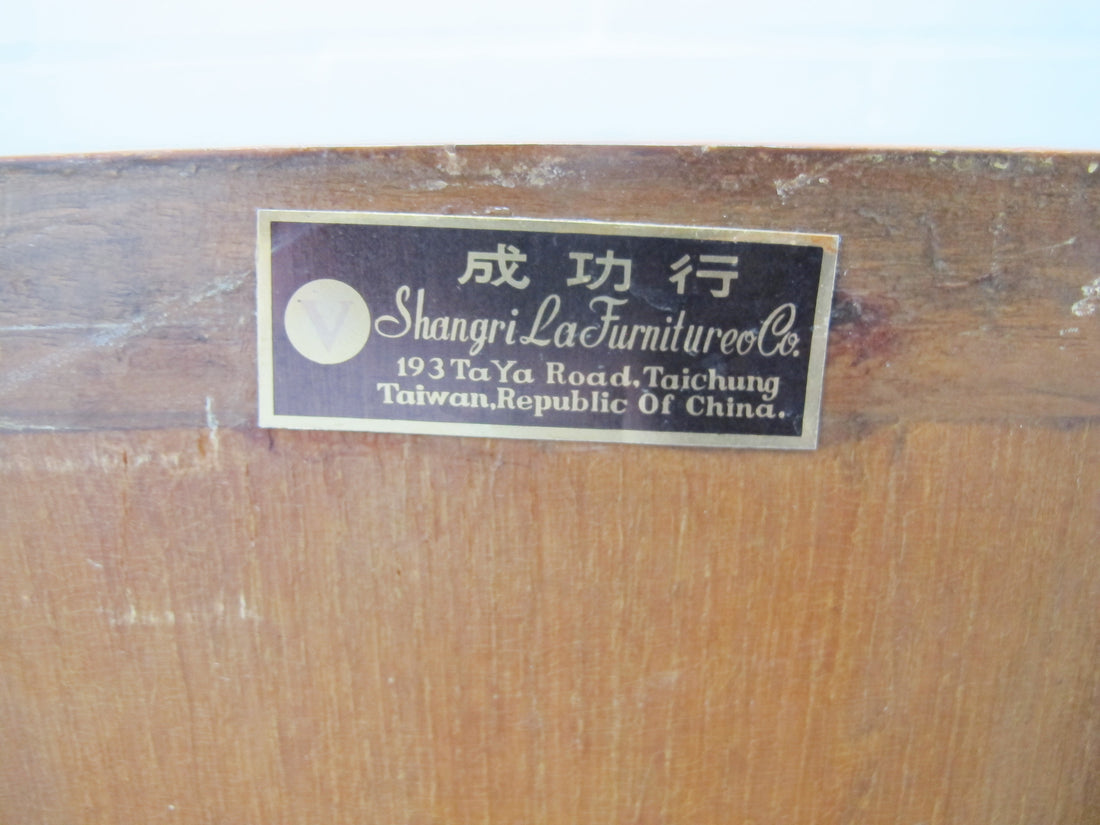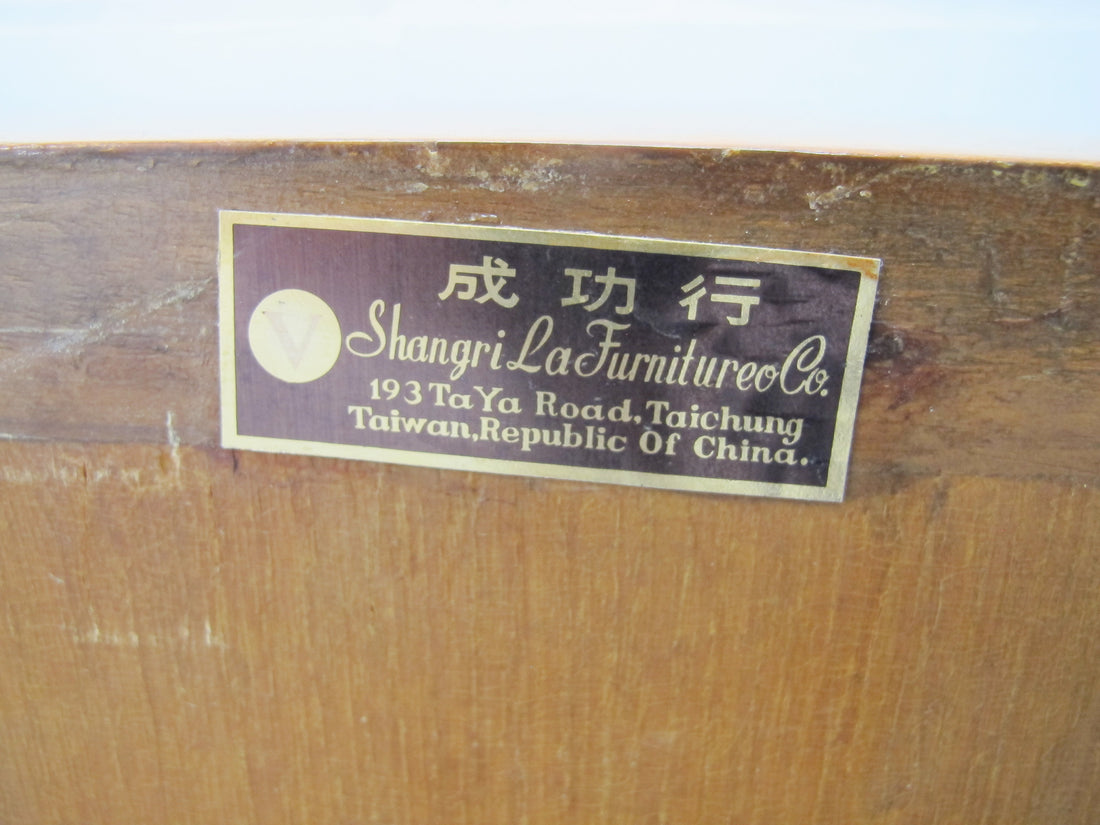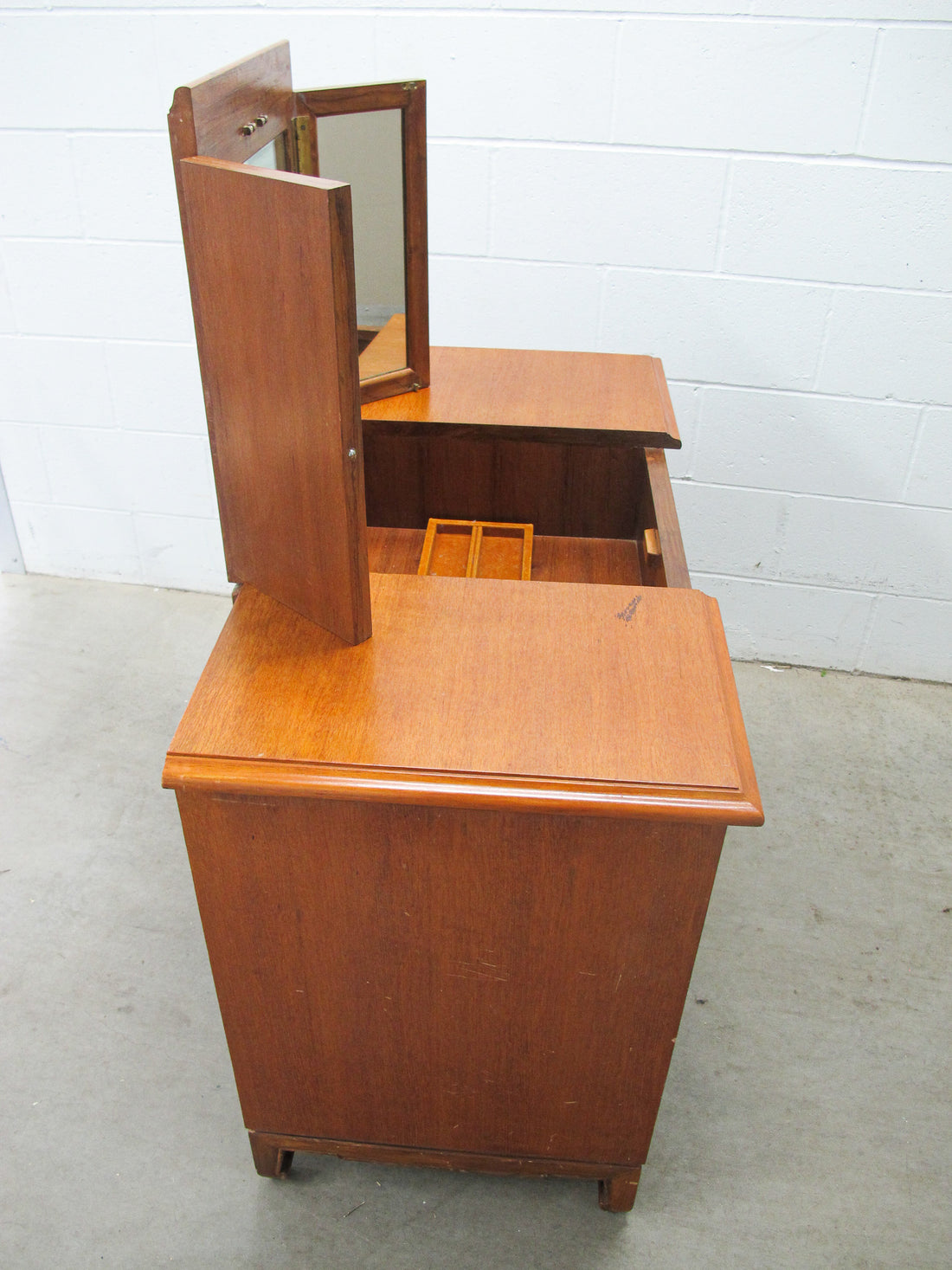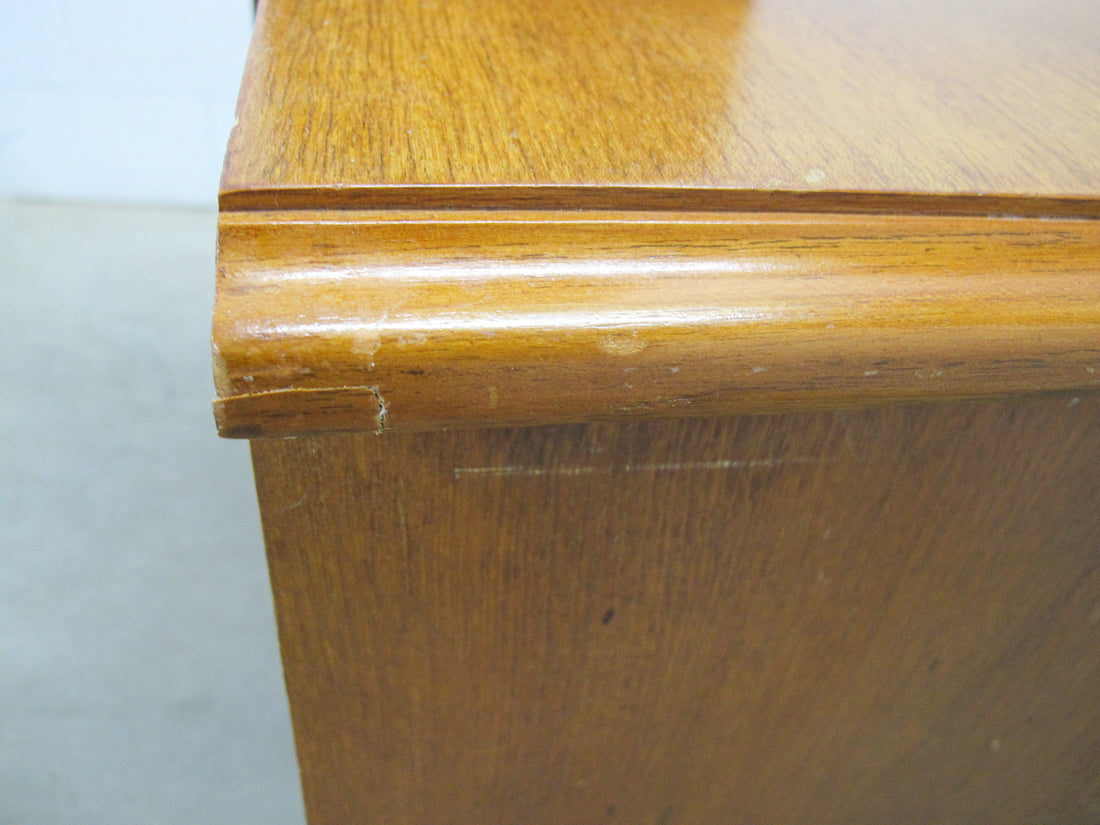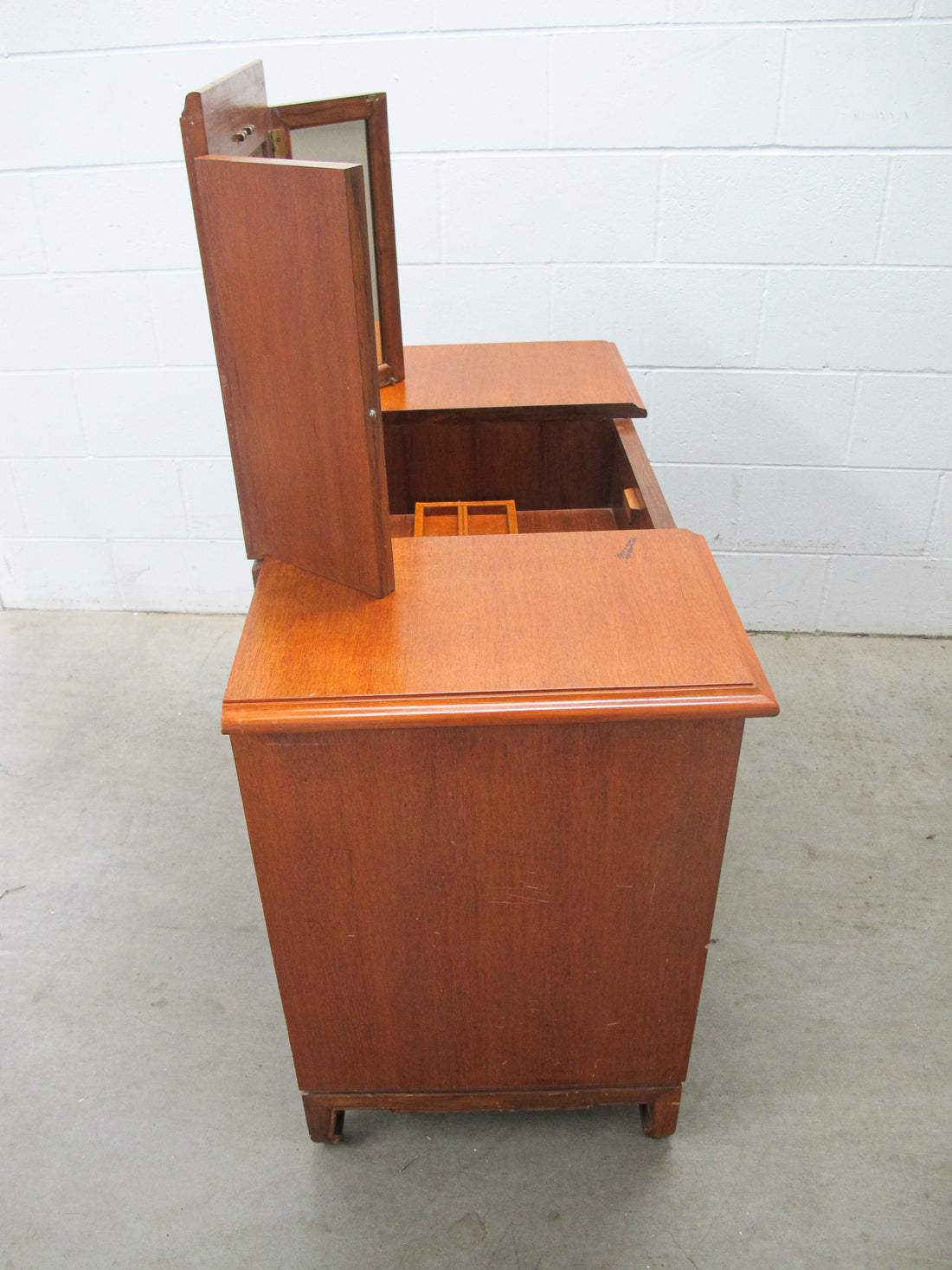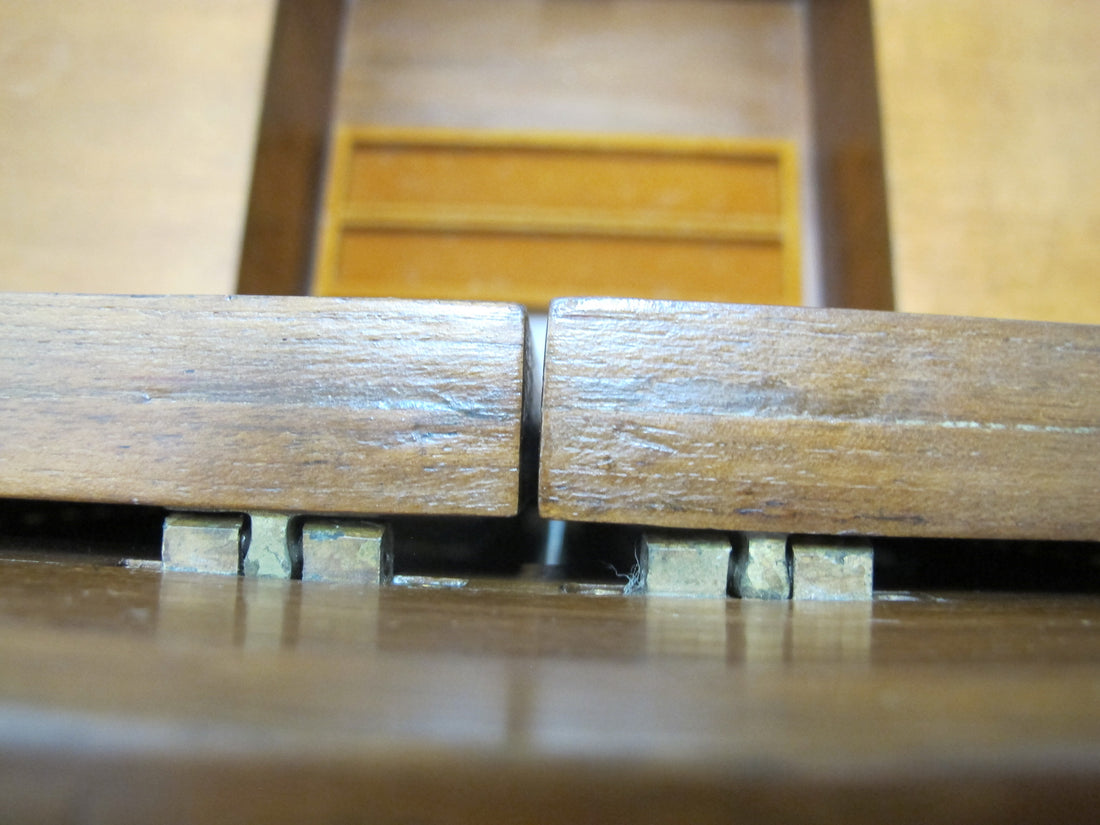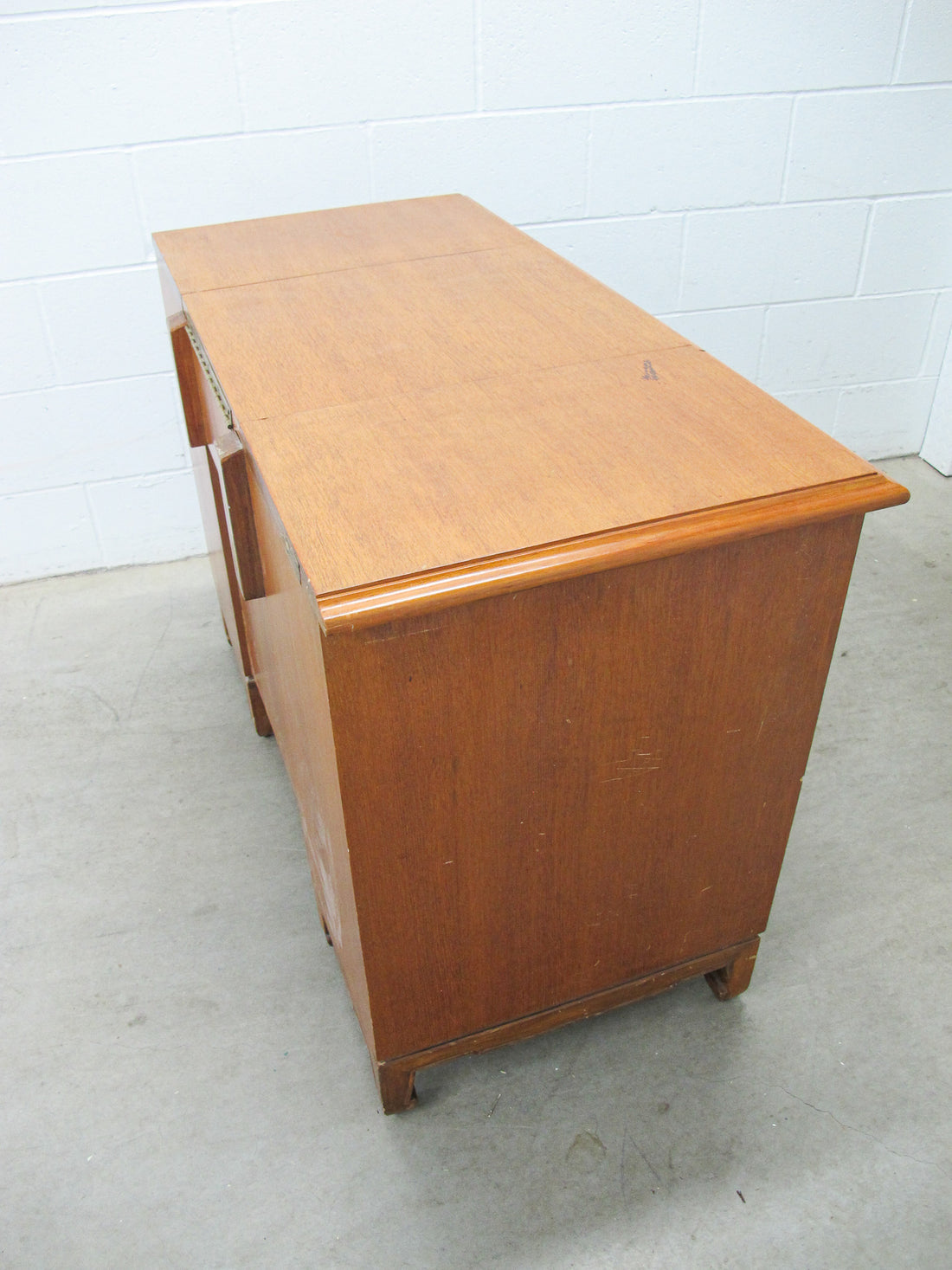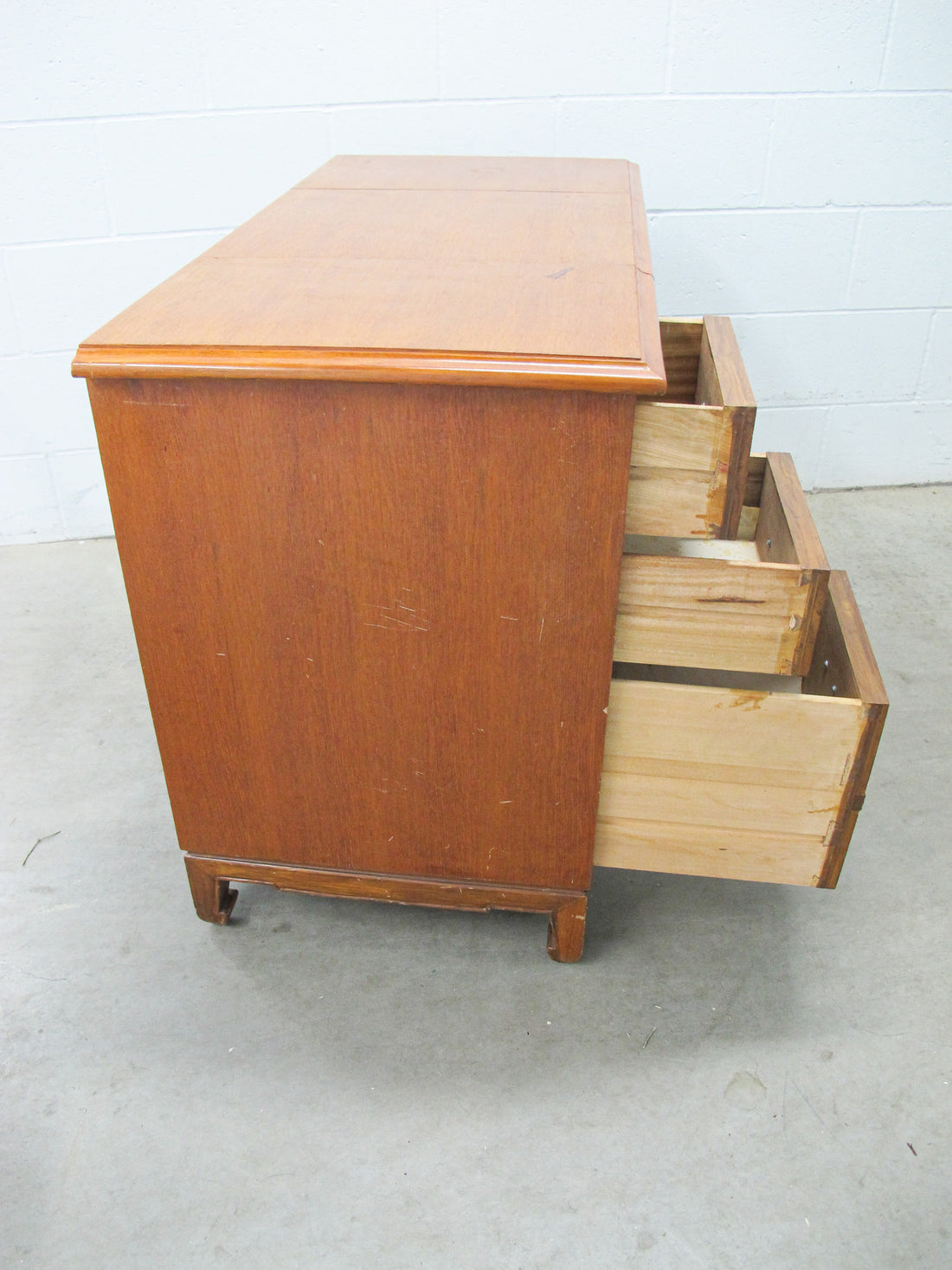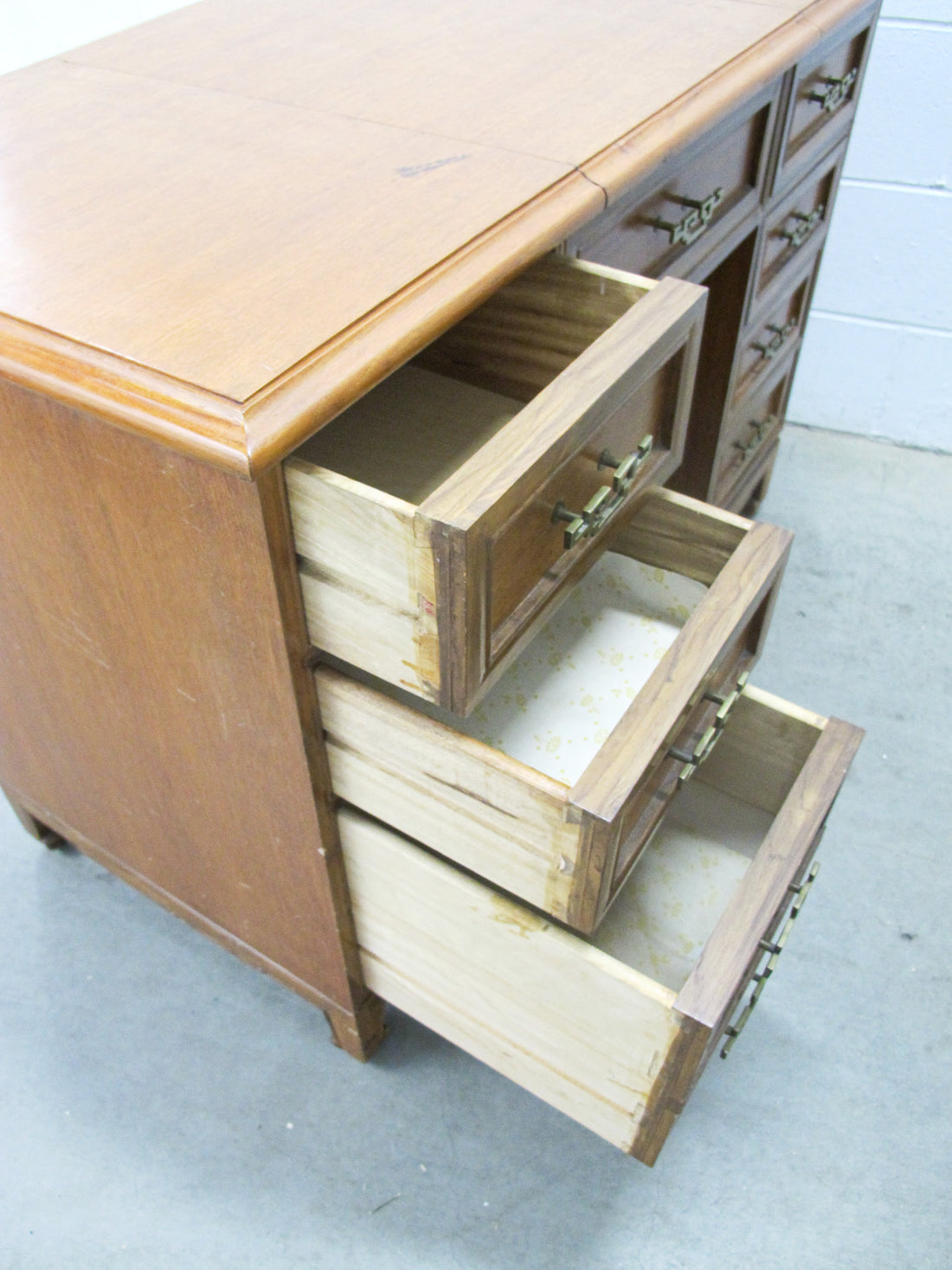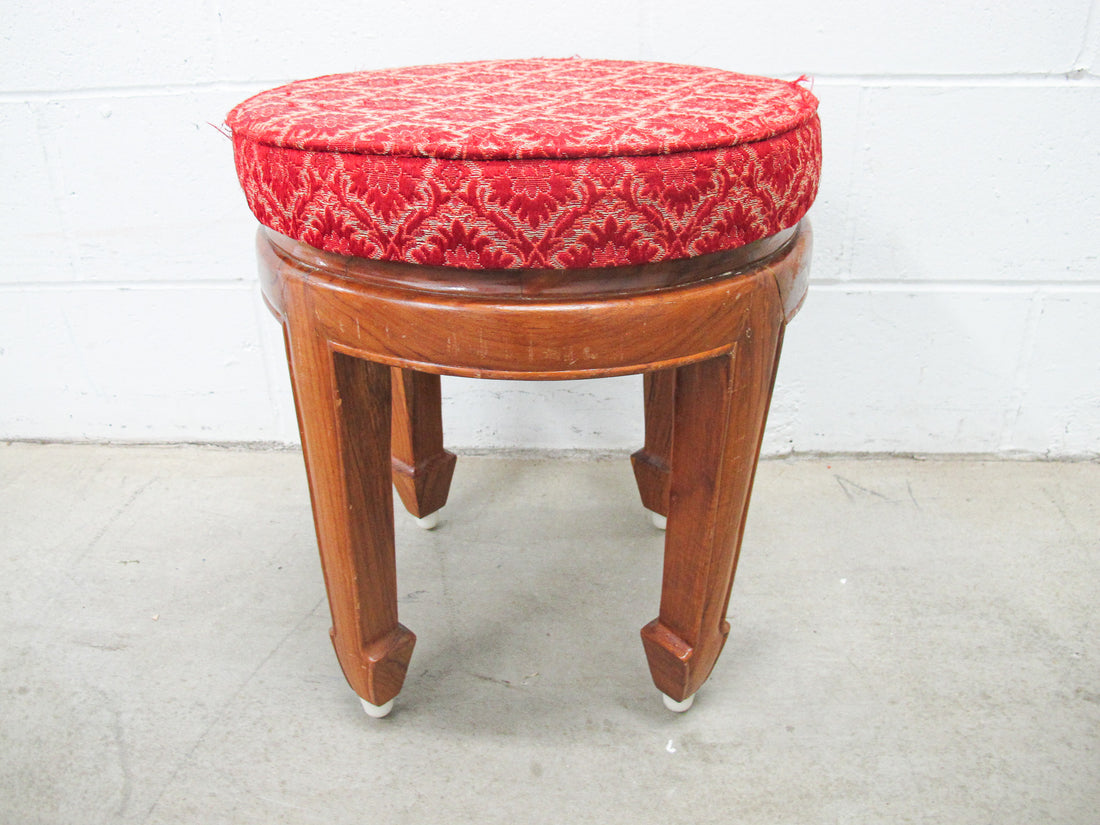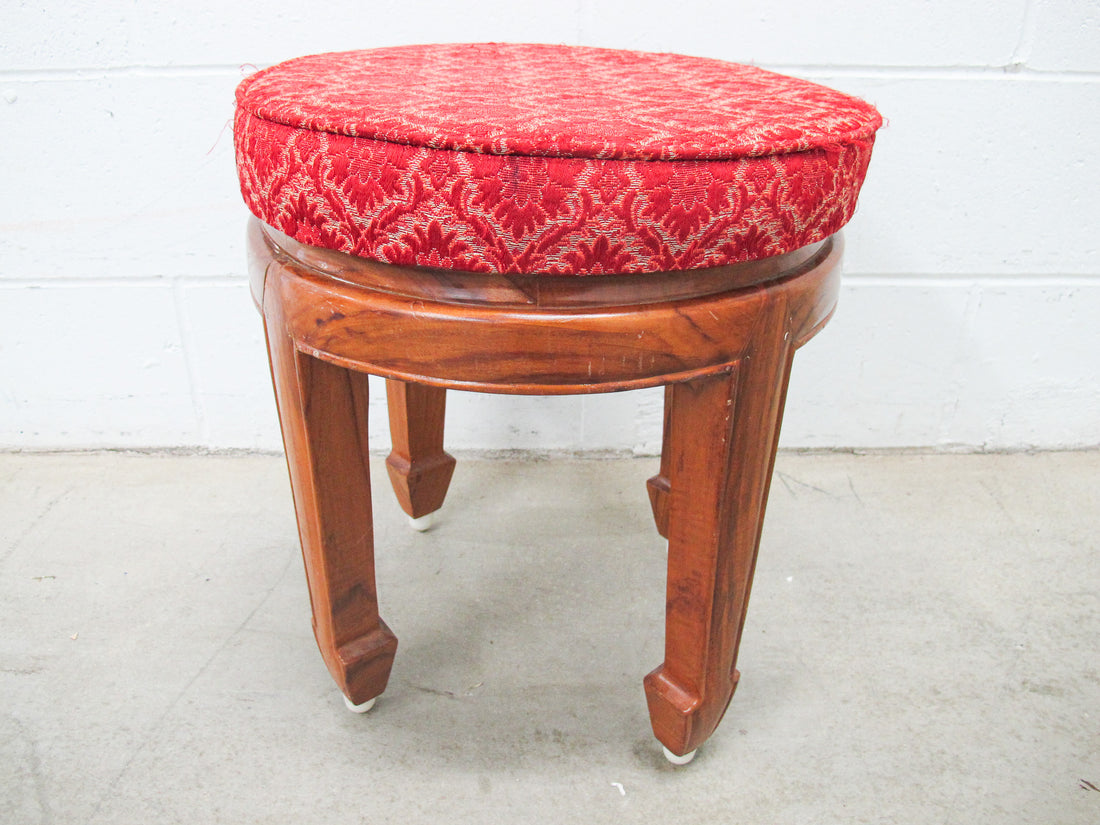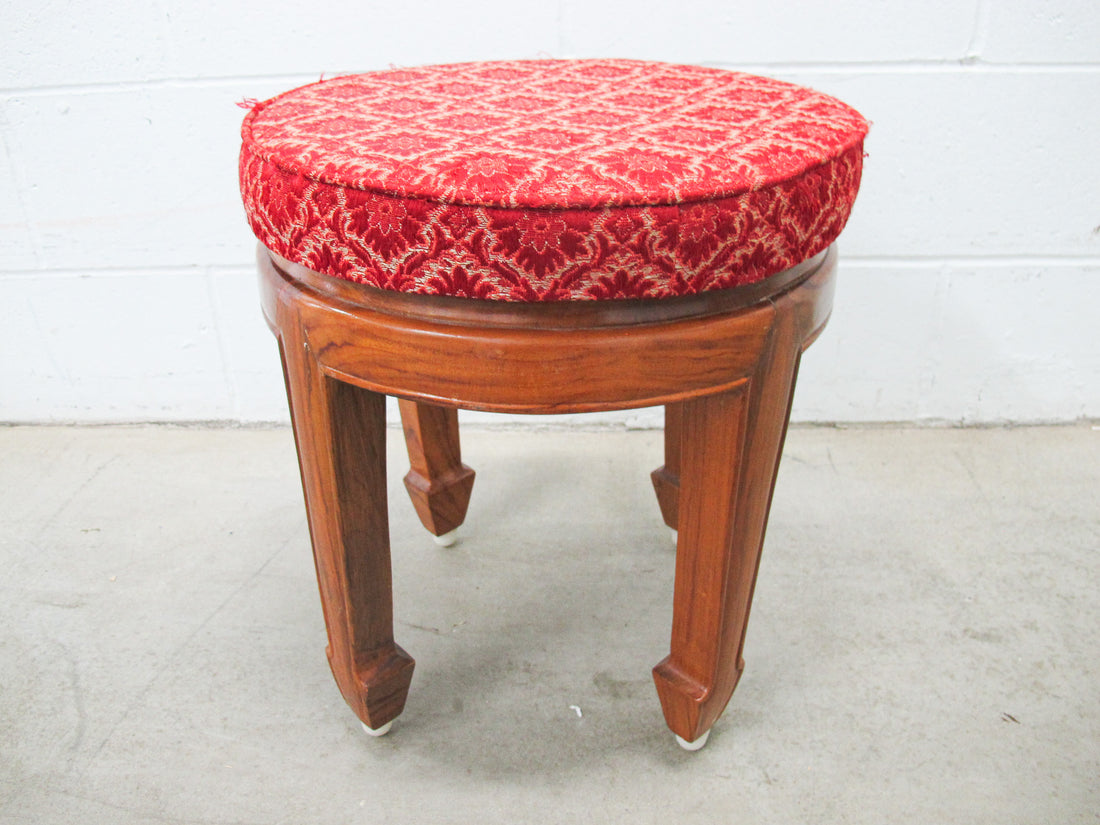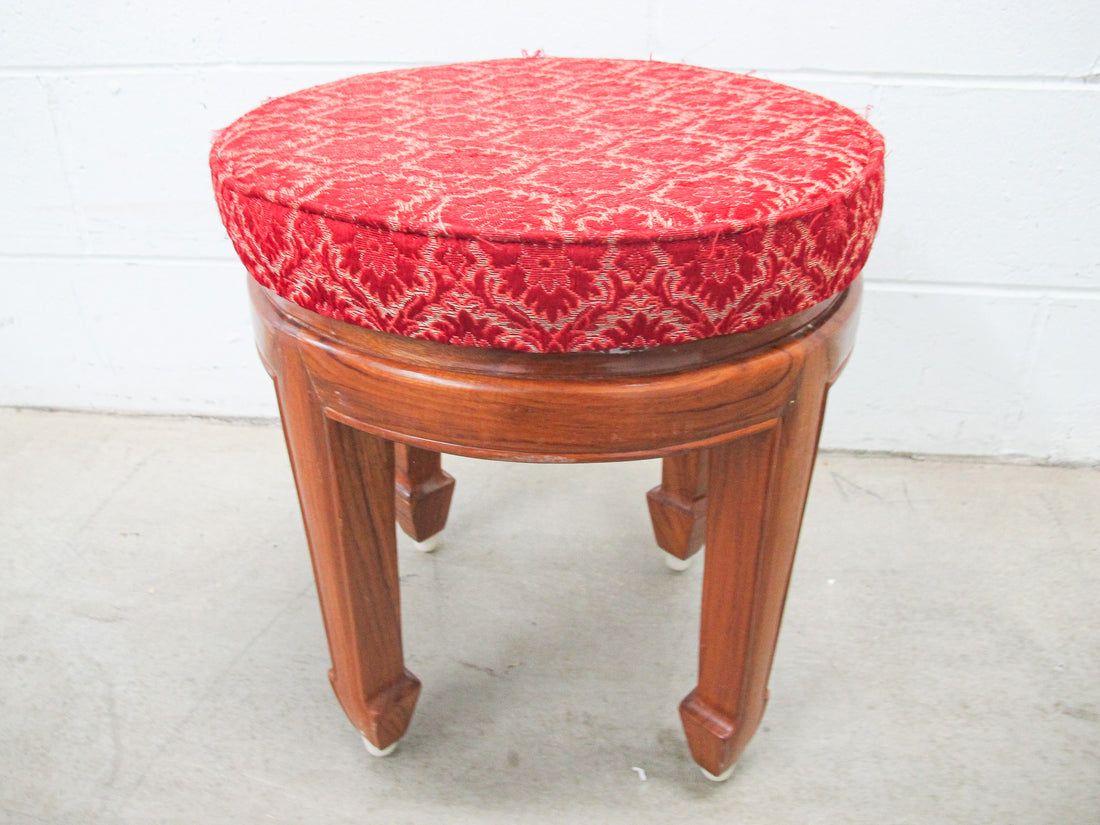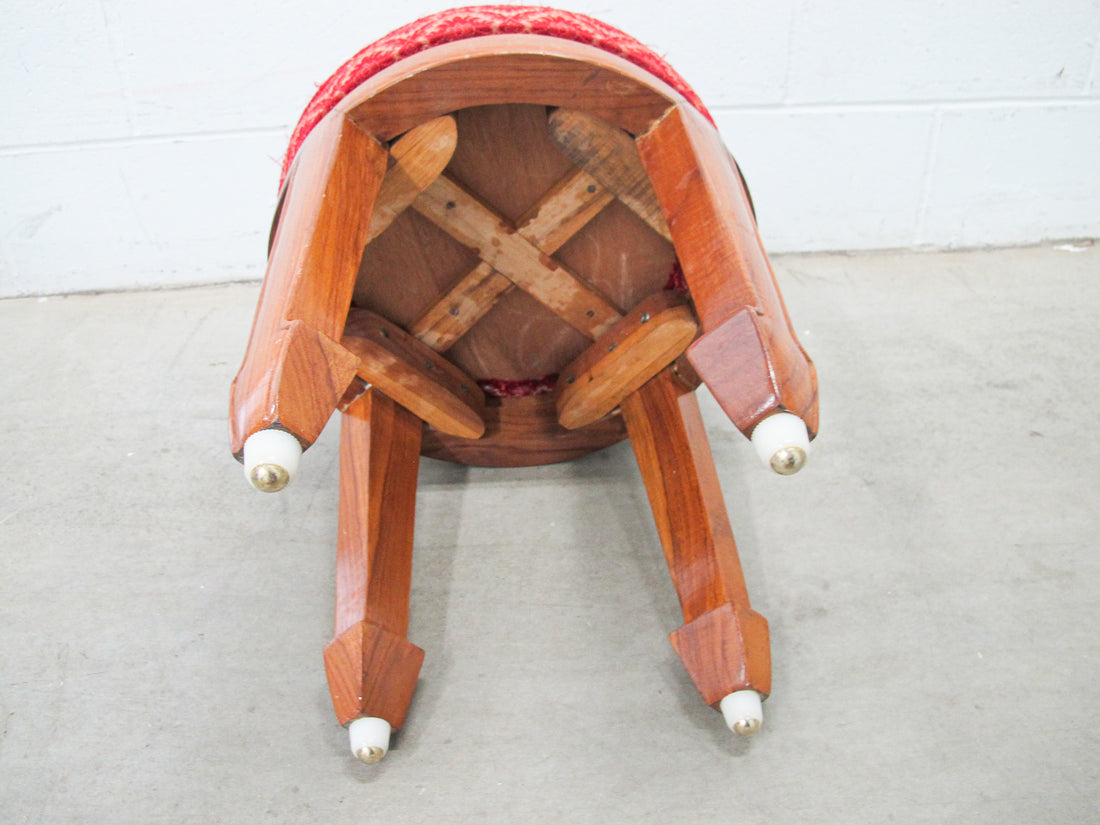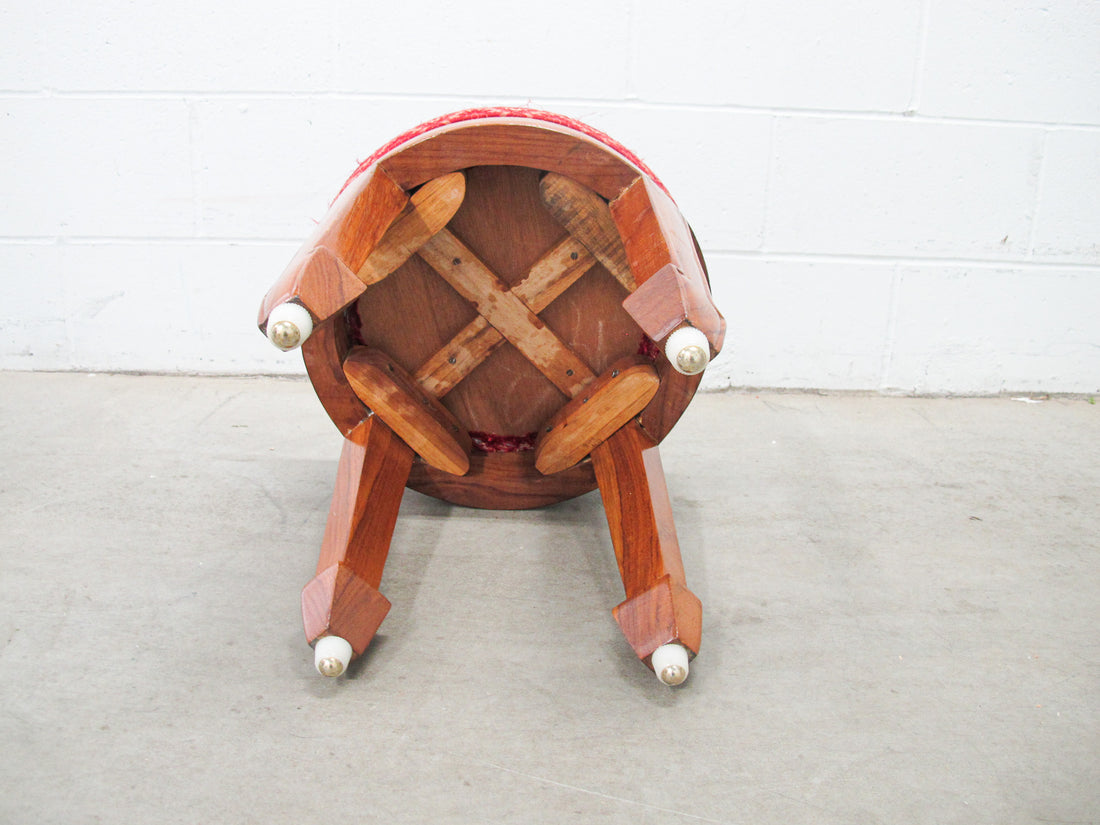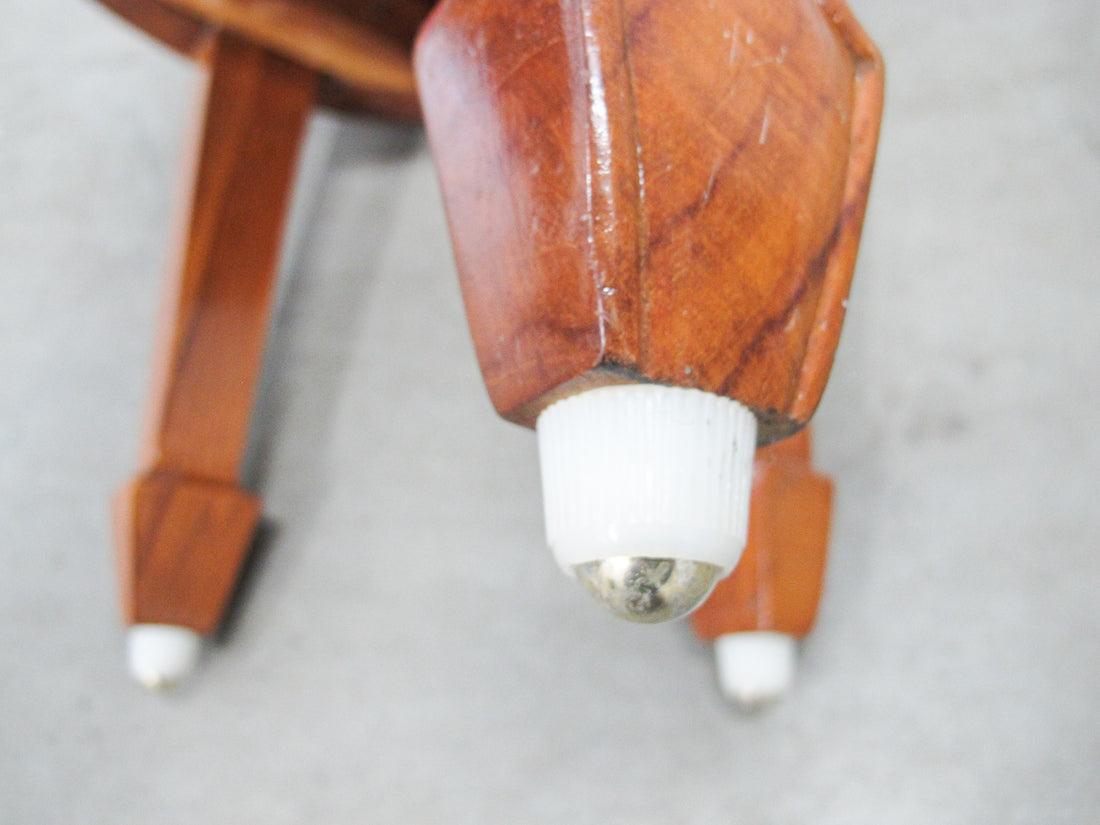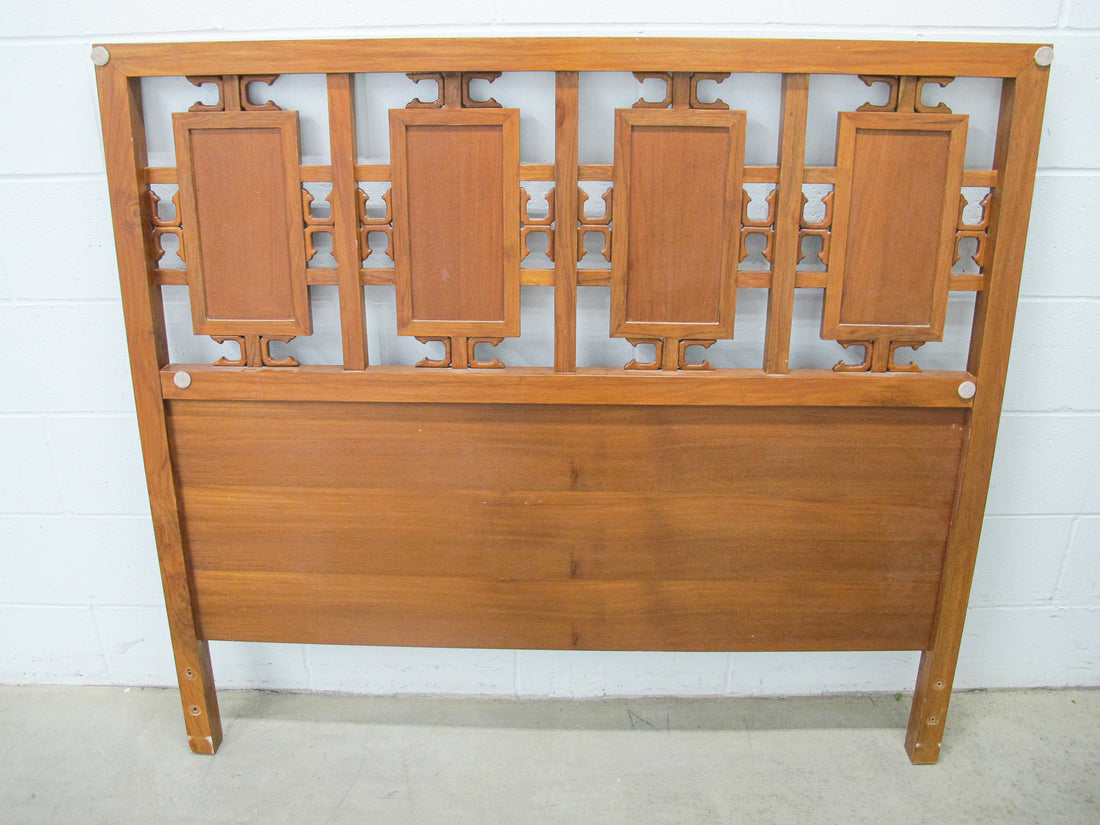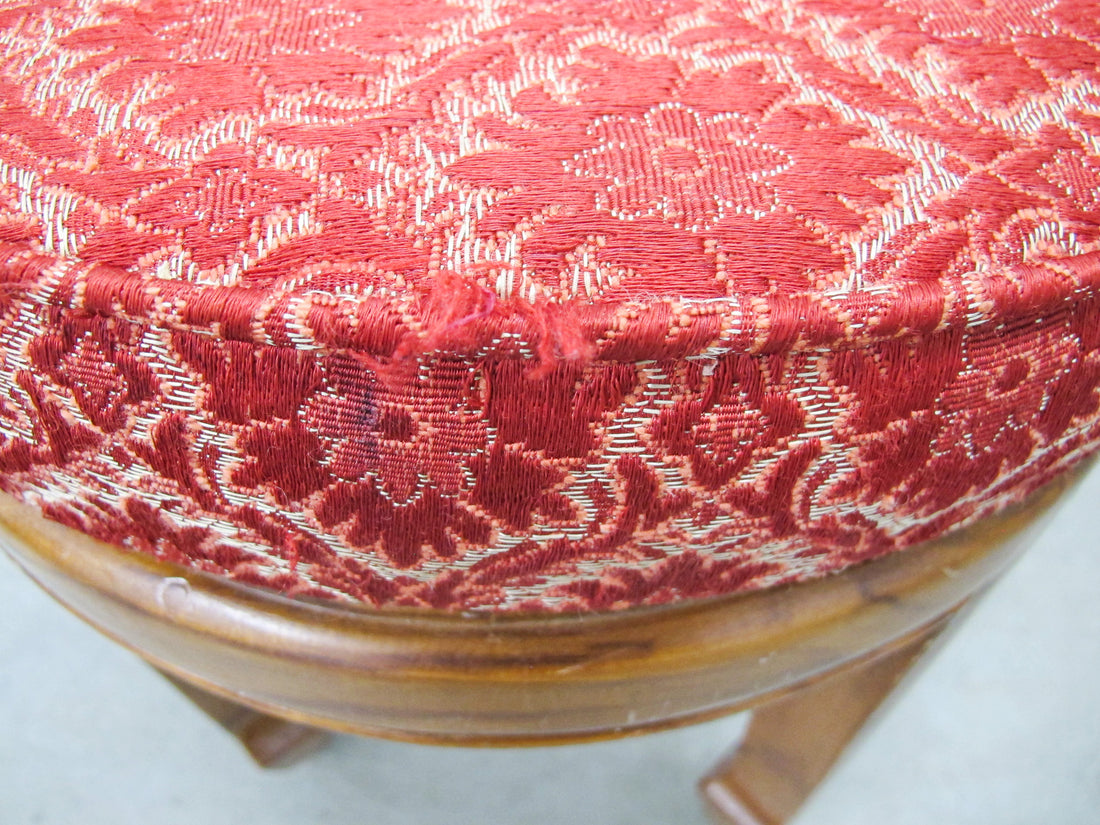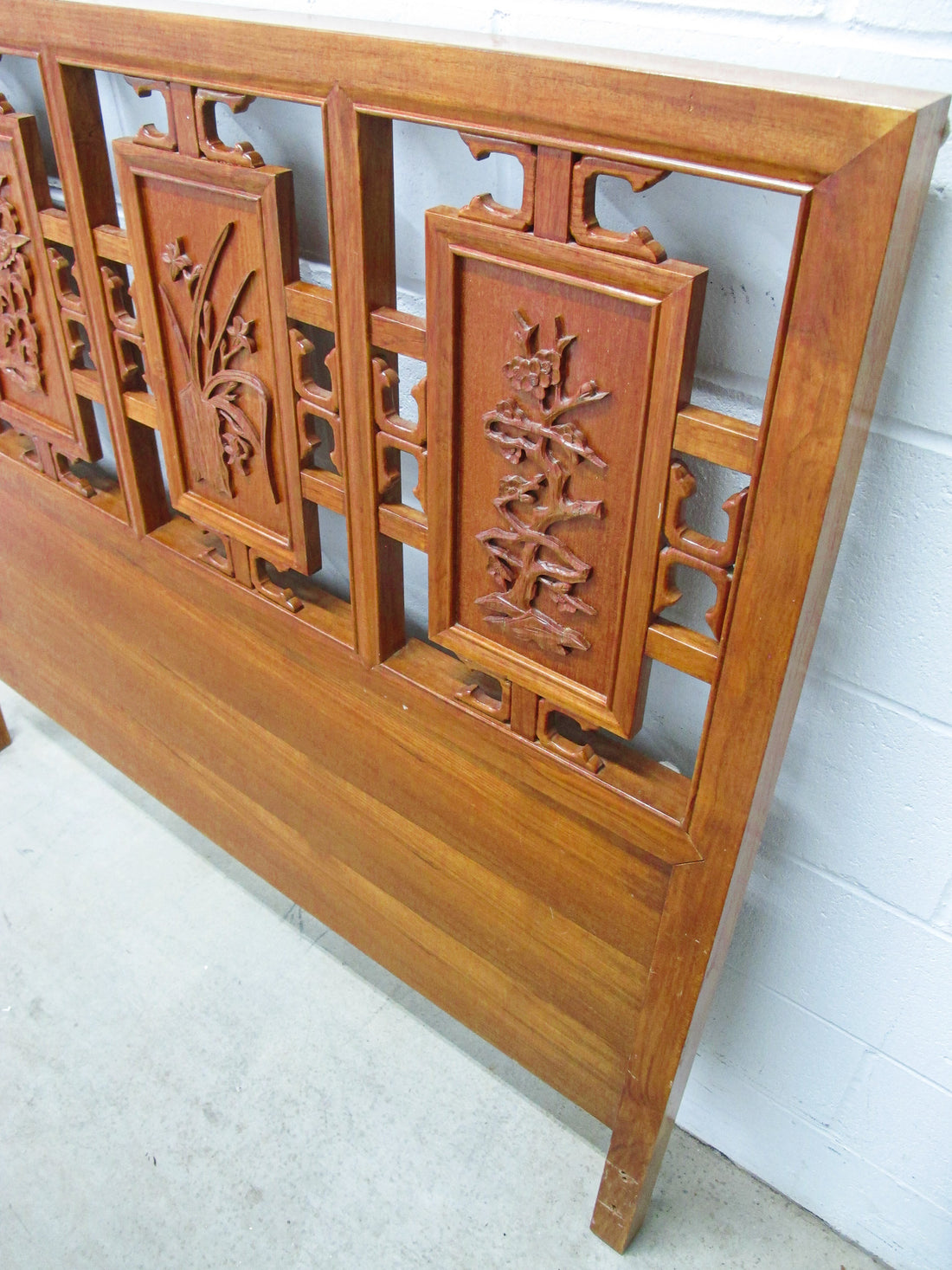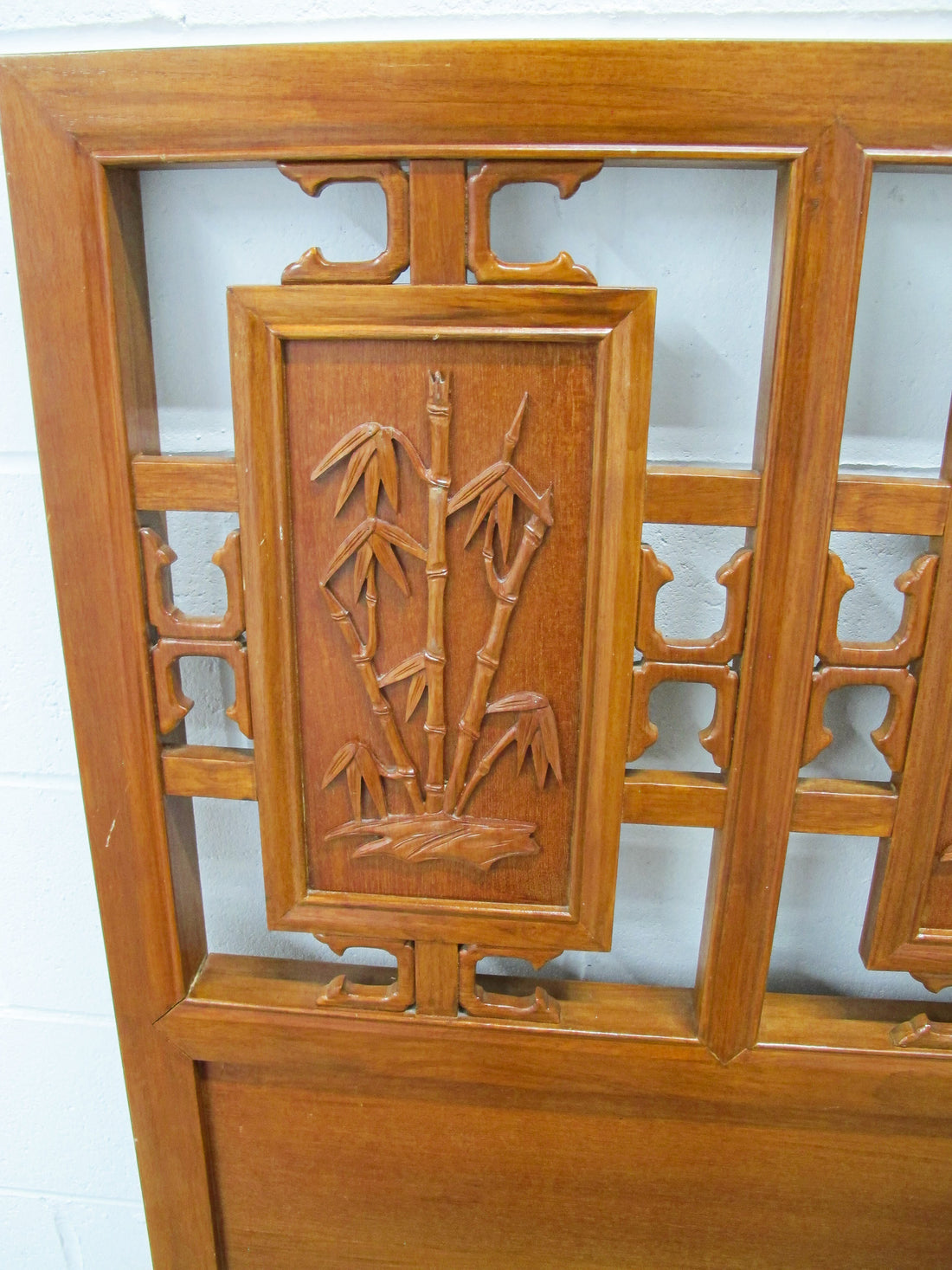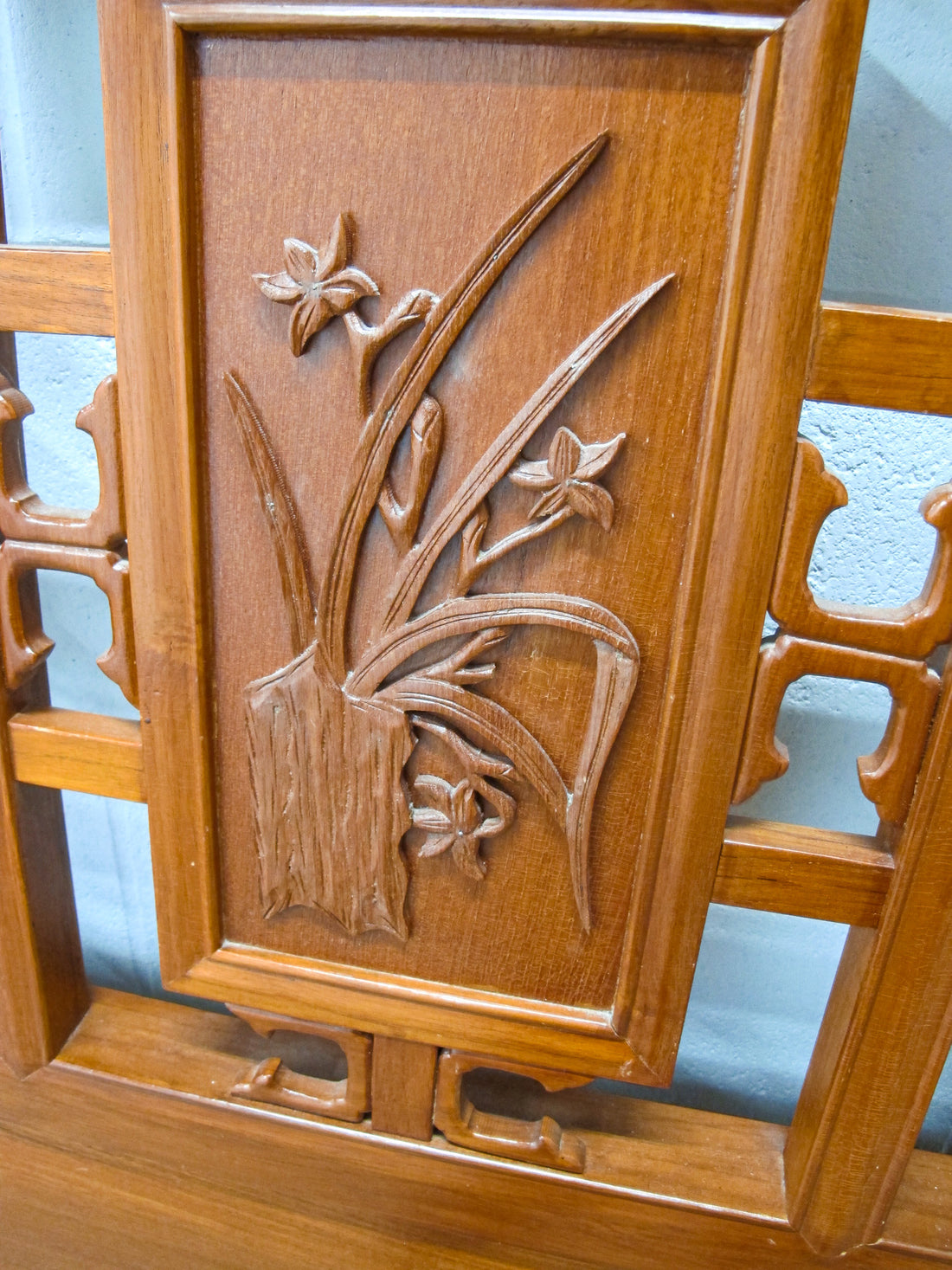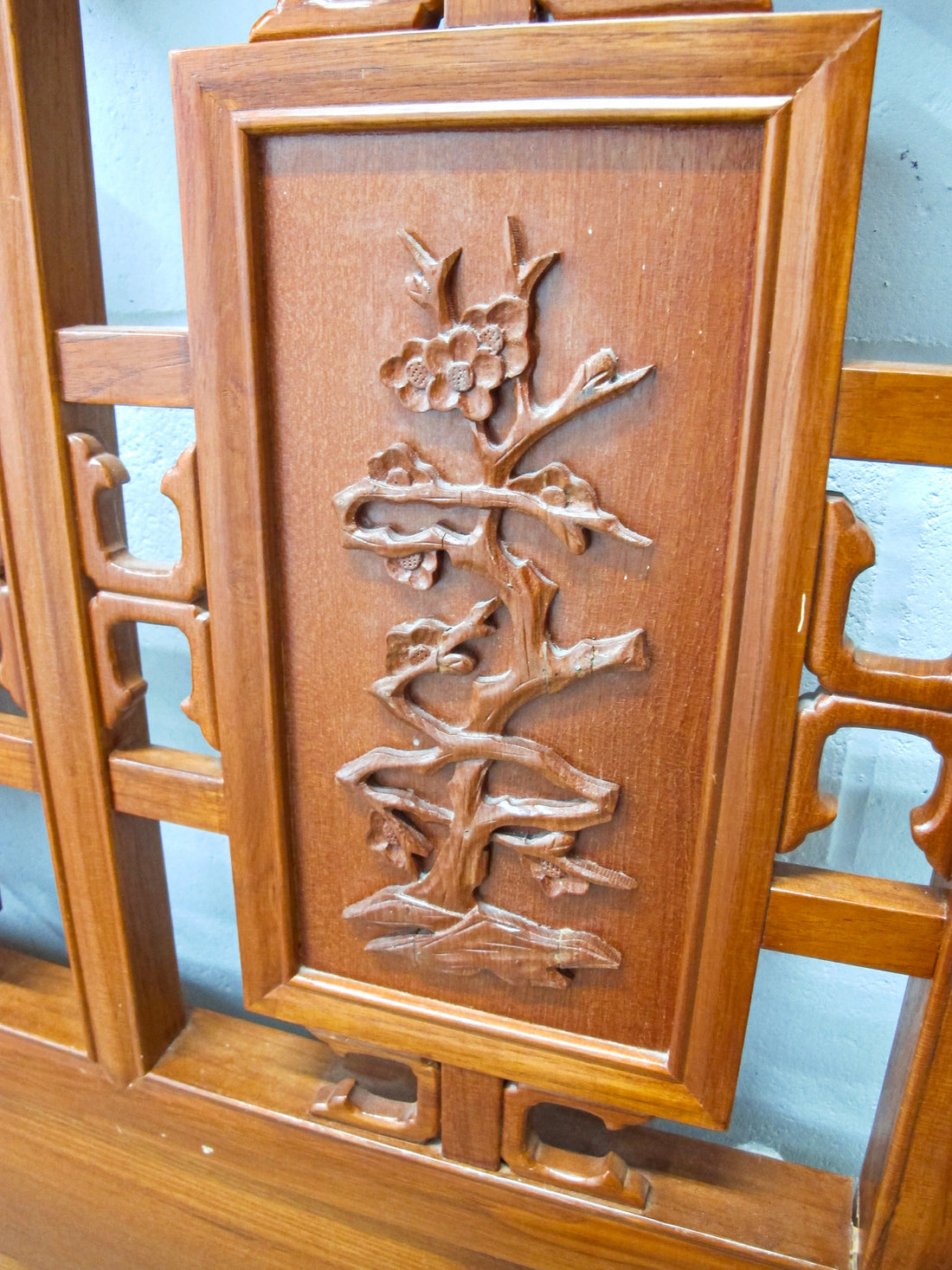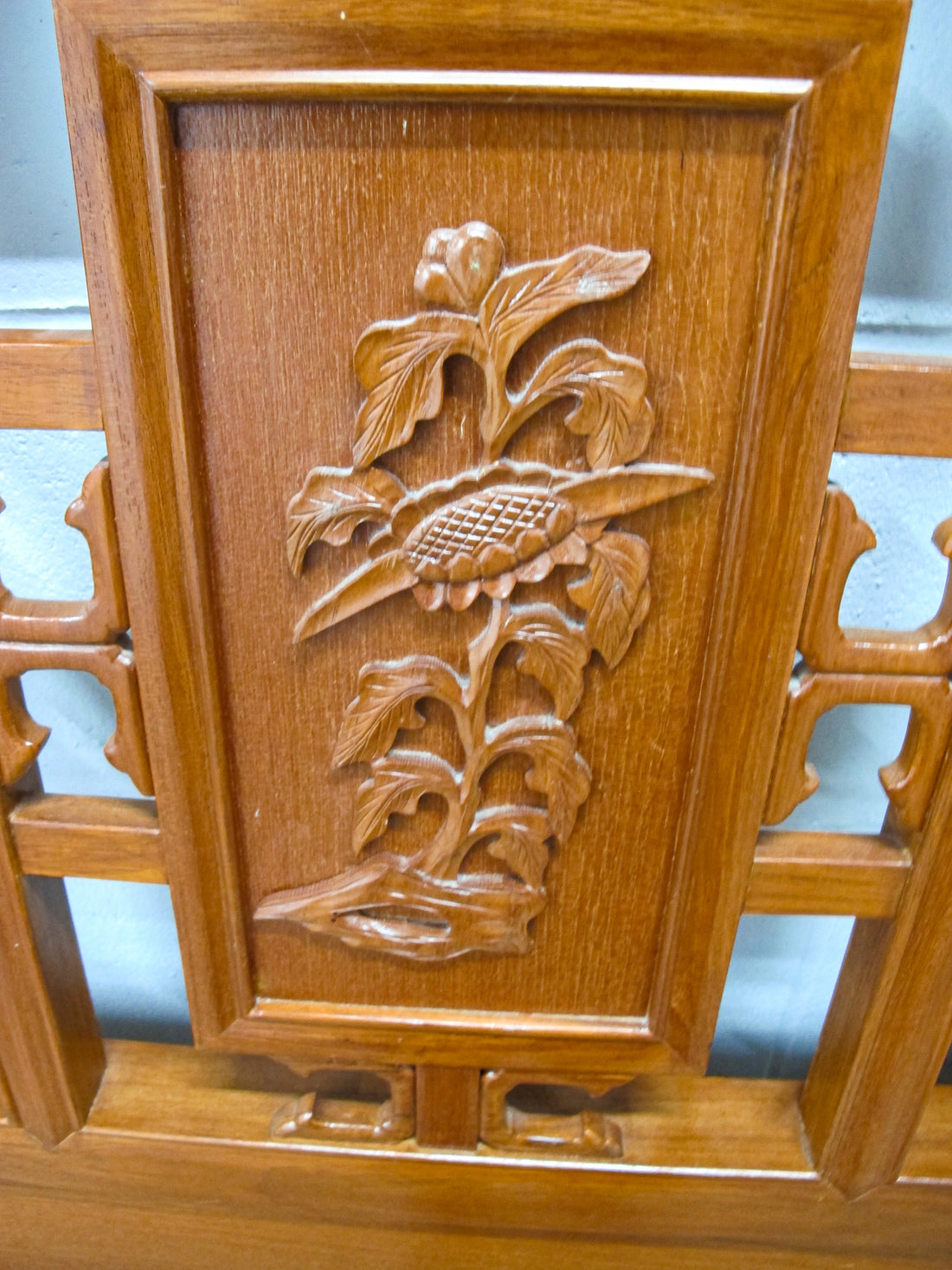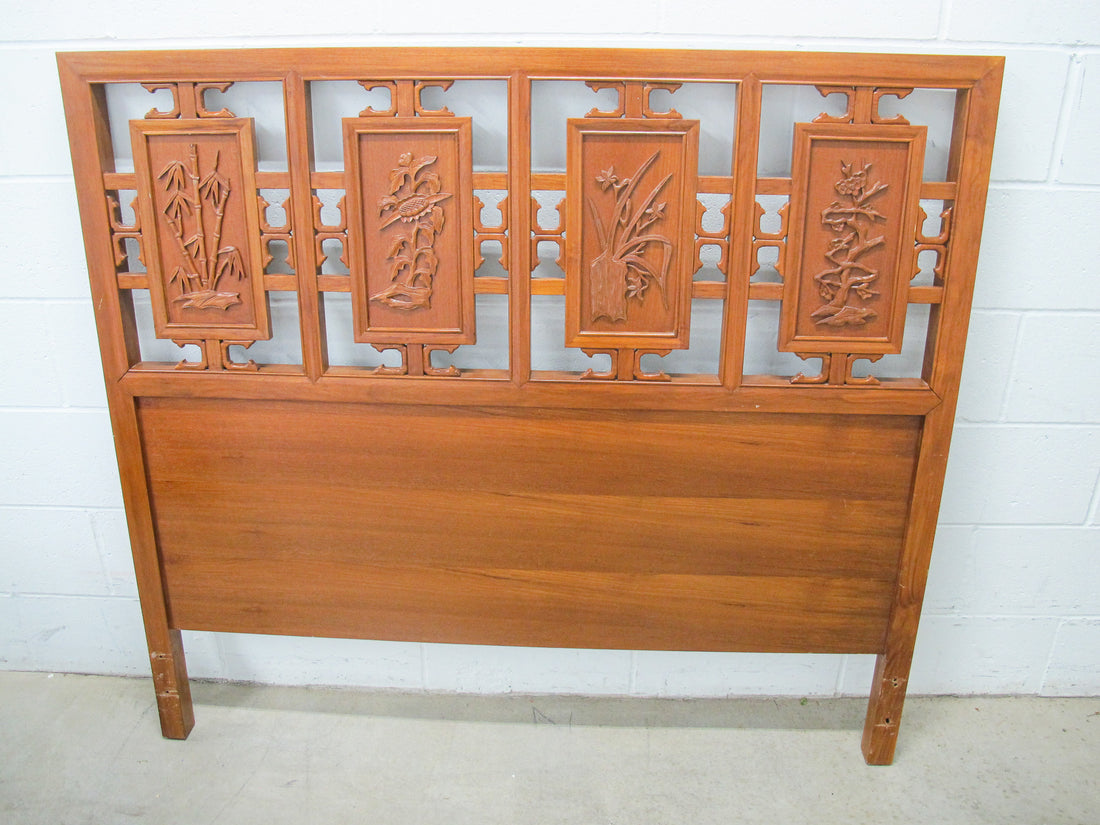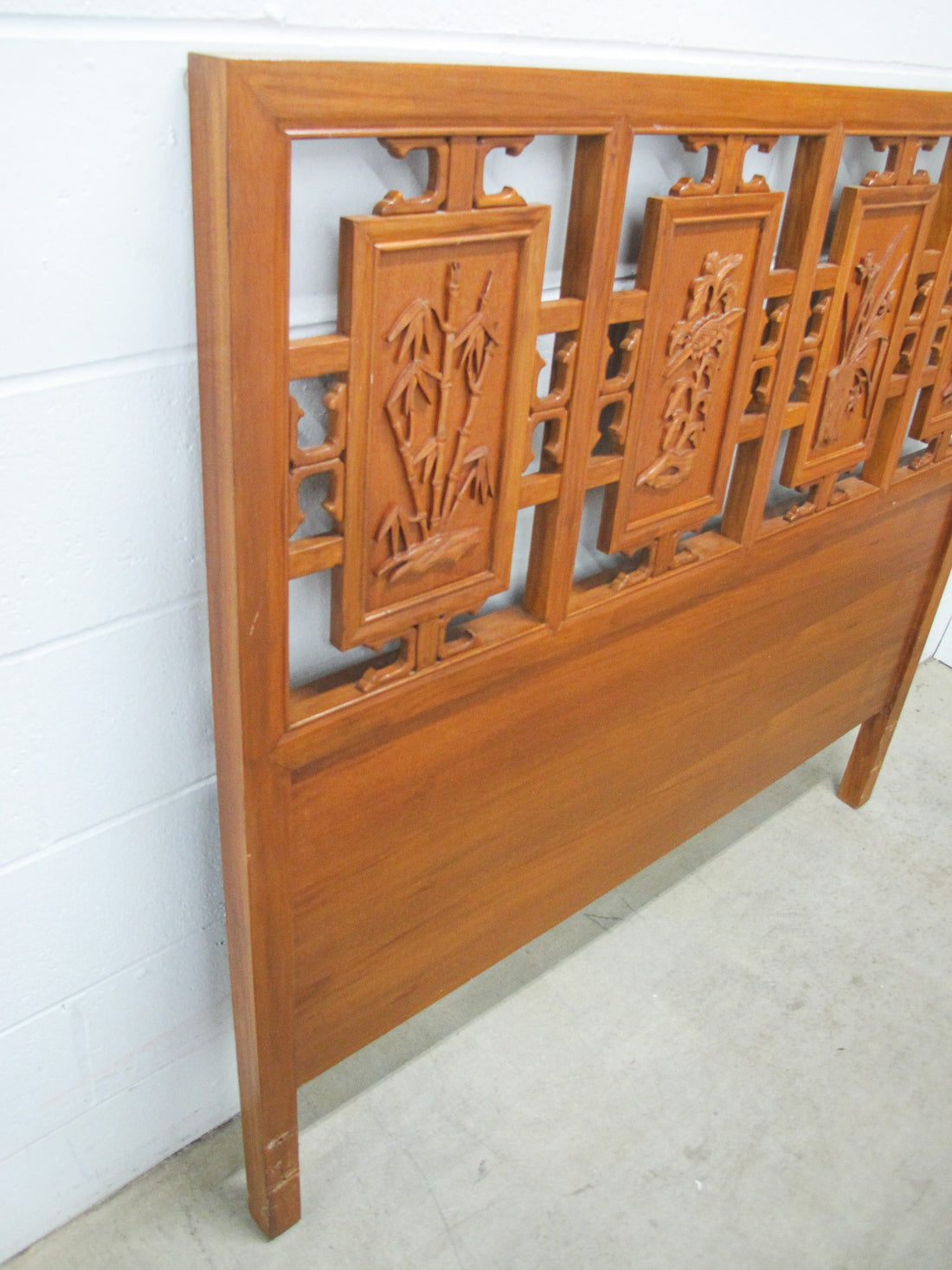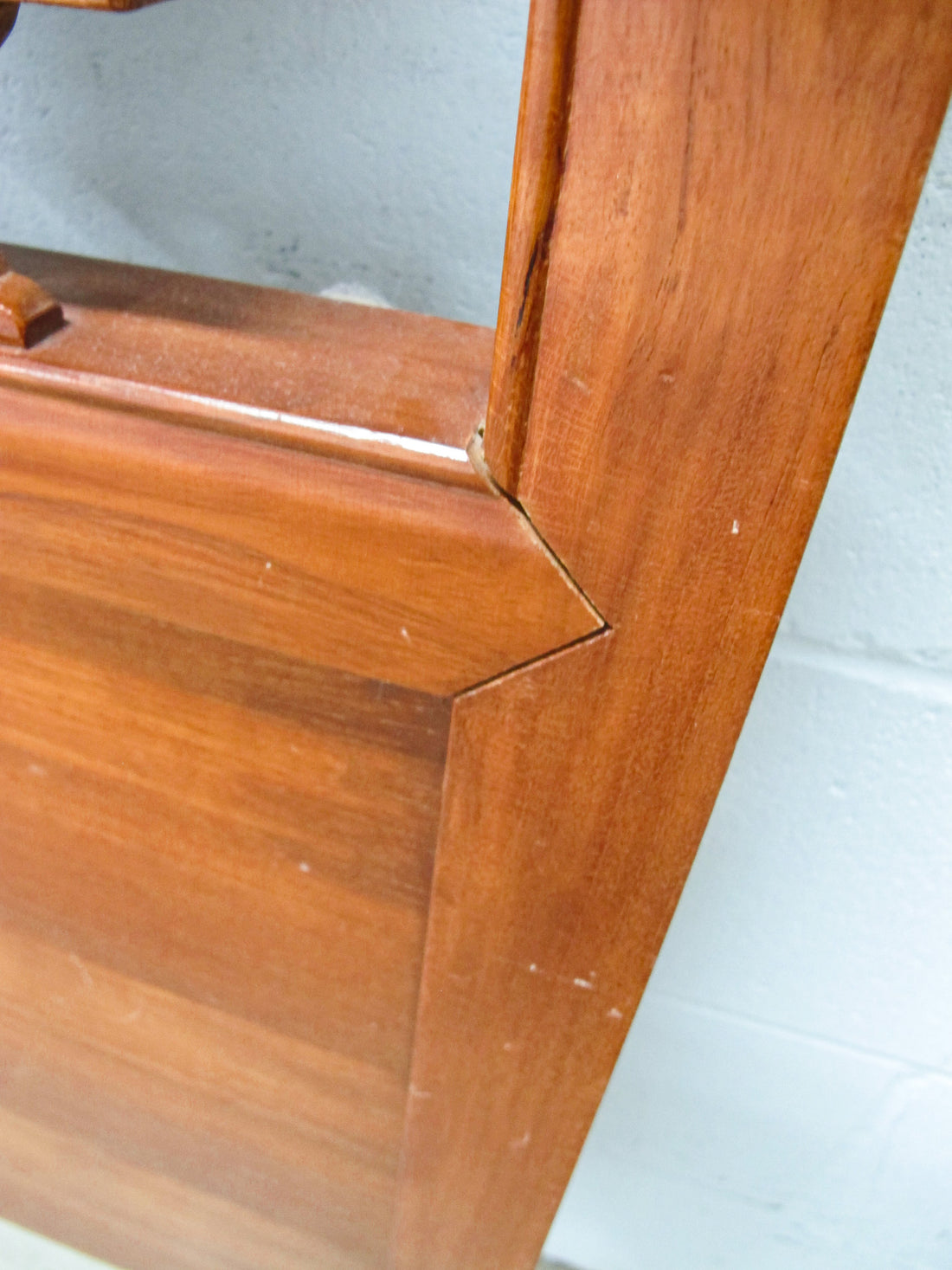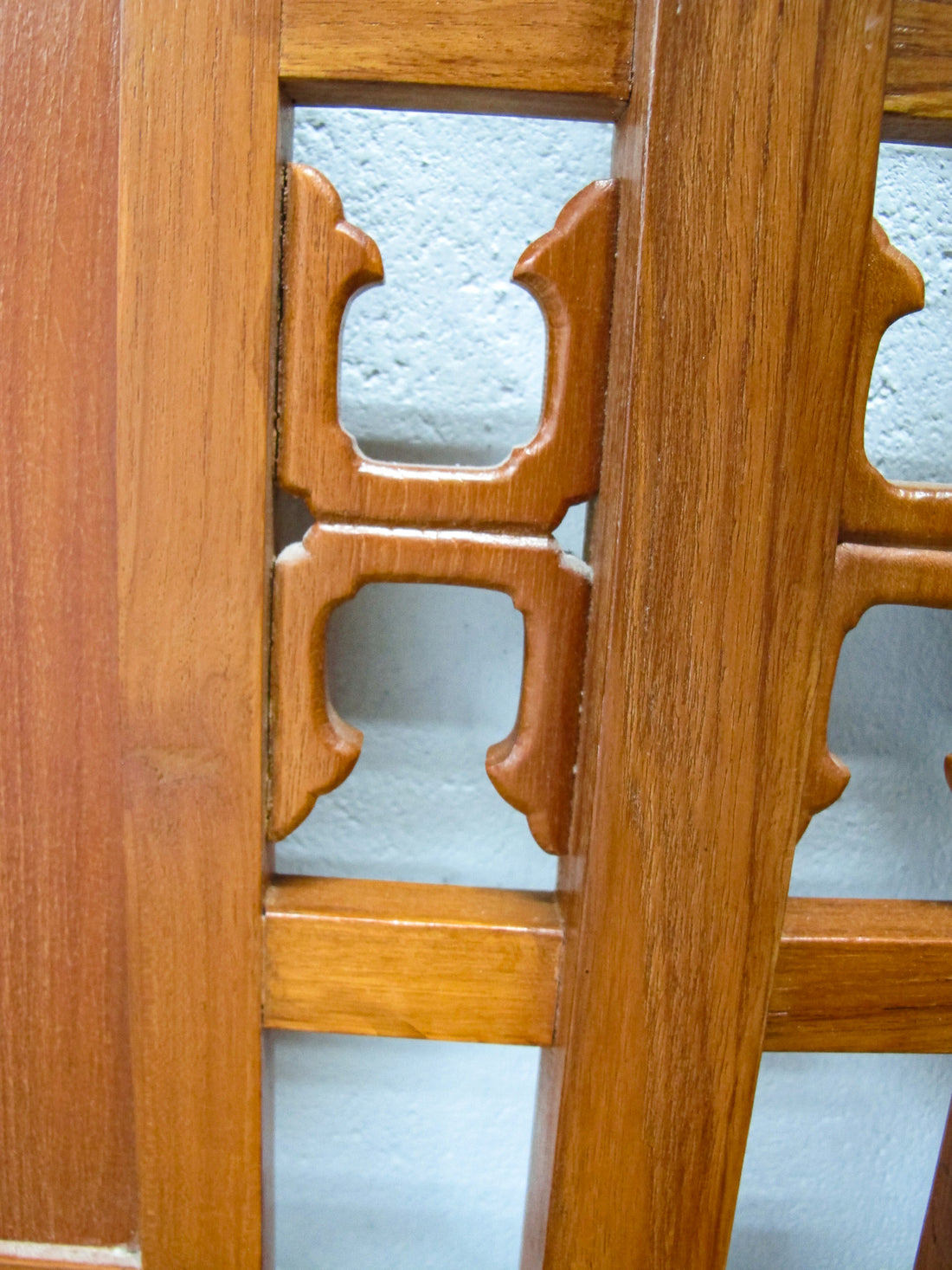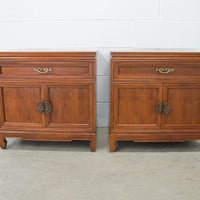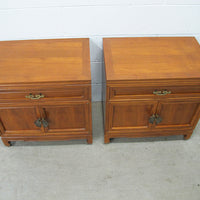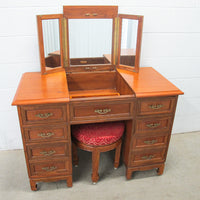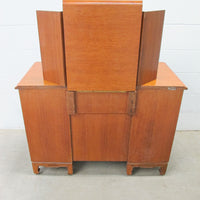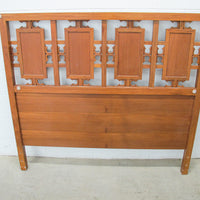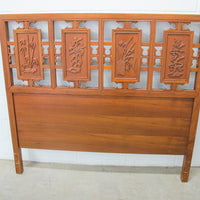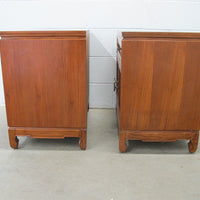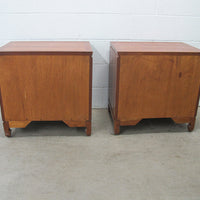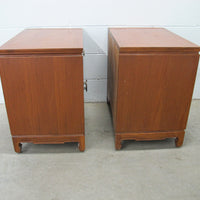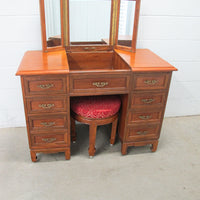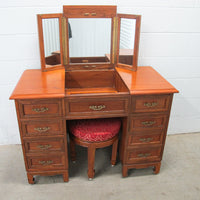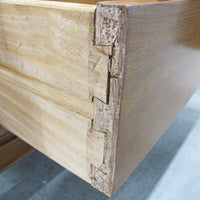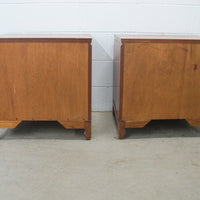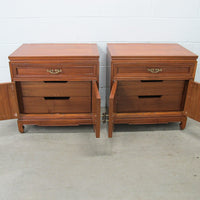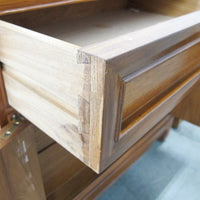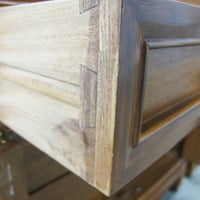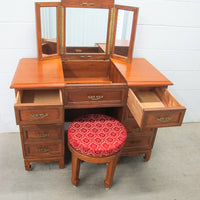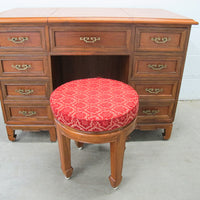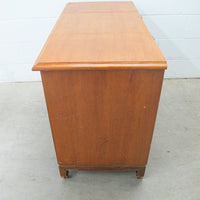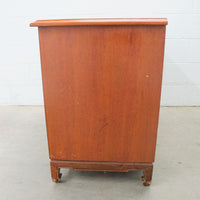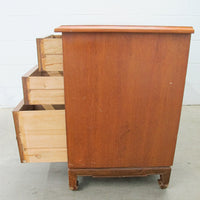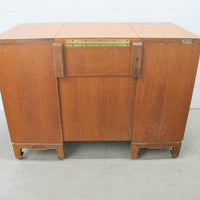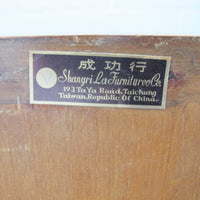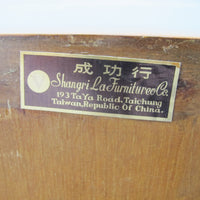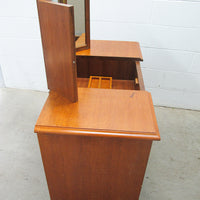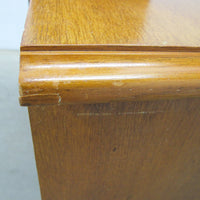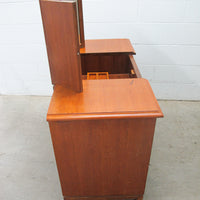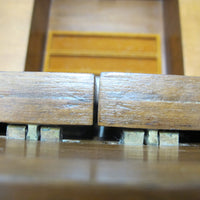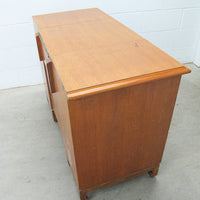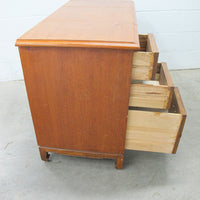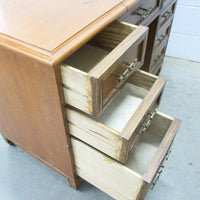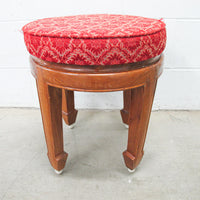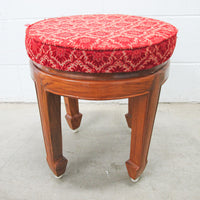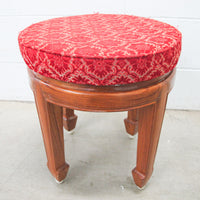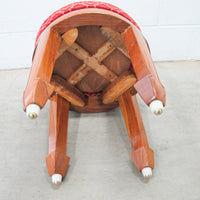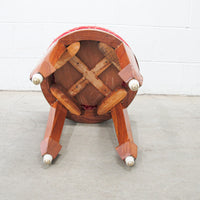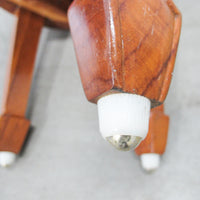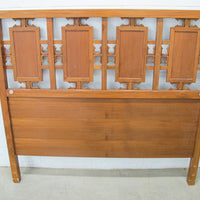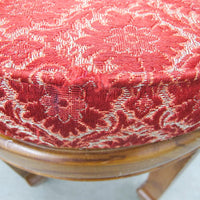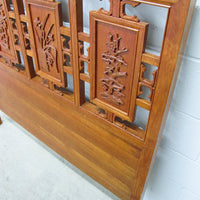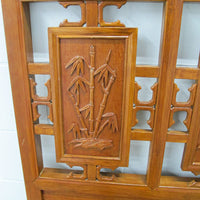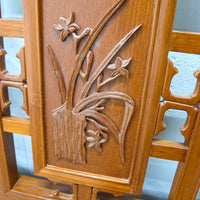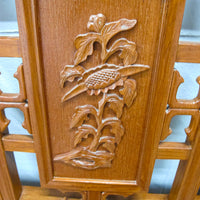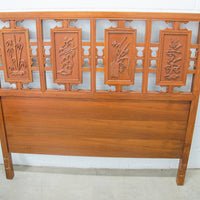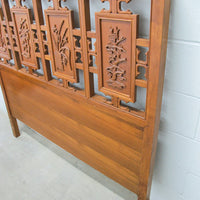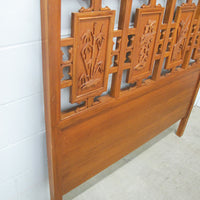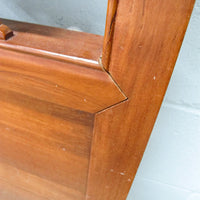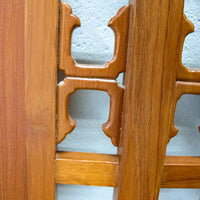 Solid Teak Art Deco Midcentury Bedside Tables Headboard Mirrored Vanity w/Stool (Each Sold Separately)
Please inquire about shipping for any of the pieces as they will require palletized shipping. We will require a full address to get quotes. 
Furniture is not made like this anymore. You will not believe the quality and the sheer beauty of this old teak wood set. Originally made in the Republic of China with the original makers mark, this set dates back to the art deco era. 
Each piece is substantial and super well crafted with dovetail detailing on the back and front side of each drawer. The hand carved details are crisp and meticulously formed. 
This listing has the set split up as follows, each grouping sold separatly with an option to by the set all together:
Set of 2 Bedside nightstand tables - These bedside tables have that beautiful minimalist look with incredible carved detailing on the legs and the original brass hardware pulls. Each drawer has dovetail detailing on the sides of the drawer. We love that you can store things internally to keep all the chaos stored inside these incredibly calming pieces. 
Measures - 24" W x 16" D x 24.25" H 
Top Drawer Measures - 21 5/8" W x 14 1/8" D x 3 3/8" H 
inside cabinet drawers Measure - 18 7/8" W x 12.25" D x 4.5" H
Vanity Dresser with Stool - We love the incredible minimalist detailing and architecture of this solid teak piece. Features a small yet functional size to fit any space and the original brass pulls. The center of the vanity folds up to reveal a storage space and folding secure mirrors that fold out and stabilize on the back of the cabinet. This allows it to be used as needed as a vanity, or use it in an entry to store all your small items for the day. Comes with the original ottoman and its original red velvet finish with some wear to the fabric piped edging. 
Vanity Overall Measures - 42" L x 20" D x 29.75" H
Middle Storage with Vanity Mirrors measures - 16" W x 17.25" D x 5.75" H
Top Drawers Measure Approx - 9.75" W x 16.26" D x 4.25" H
Second Drawers Measure Approx - 9.75" W x 16.26" D x 4" H
Third Drawers Measure- 9.75" W x 16.26" D x 9.5" H 
Headboard - Often we love a lone headboard as it allows one to simply secure it to a wall or use in other capacities. Most beds these days come with their own framing. This piece is solid and has beautiful hand carved detailing. 
Measures - 53.25" L x 1 7/8" D x 48" H